When Jefferson County Judge Carl Griffith gave the all-clear for rural residents to return days after Hurricane Rita, Beaumont Mayor Guy Goodson anxiously disagreed.
Alongside Interstate 10, where exits leading to Beaumont remained blocked by state troopers, Goodson and Griffith argued about the decision, Griffith recalled.
"We're good friends, but he got upset with me," Griffith said. "He caught a lot of grief. He got upset [and said]: 'Why don't you keep everybody out?'"
Goodson said it wasn't public pressure, but public safety, that worried him.
The county's largest city, home to nearly half of its residents, wasn't ready to reopen. Water and electricity remained turned off because of damaged systems.
Emergency crews struggled to feed and take care of themselves — conditions were so bad that police officers from two neighboring agencies argued intensely in a Walmart parking lot over who would receive a gasoline tanker truck a couple of days after Rita passed, multiple former and current officials said.
Confusion among residents about whether they could return, either lawfully on main roads or by sneaking in on just-reopened back roads, was another looming problem.
Contending that rural residents needed back in to tend to their livestock and had the means to sustain themselves, Griffith held firm, and the leaders went back to work.
Their debate touched multiple questions that county and city leaders will always have to consider when reopening an area after a hurricane. Those issues linger as local officials' retooled re-entry policies, which differ from other cities across the Gulf Coast, await the next test.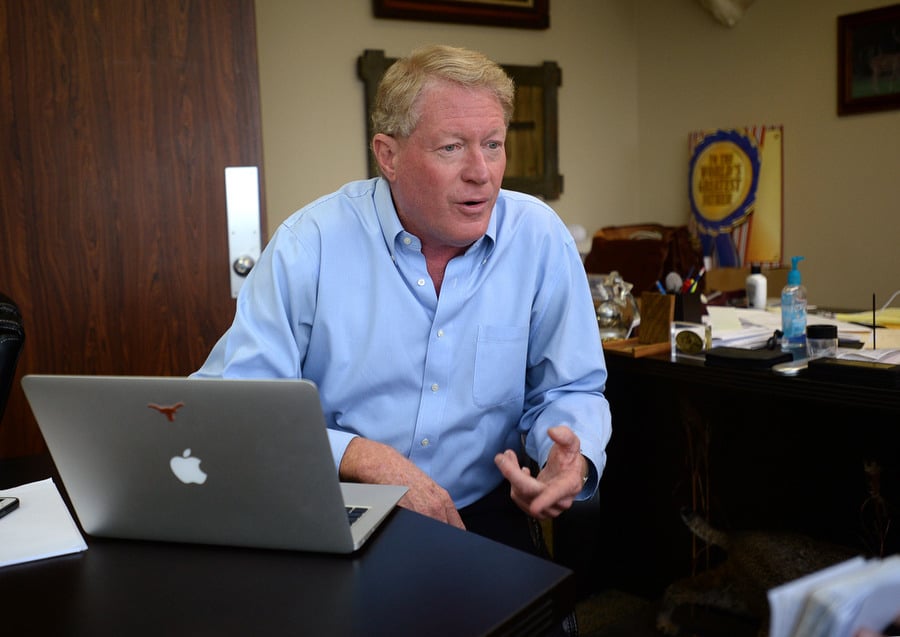 While it has become common practice after hurricanes Katrina and Rita for Gulf Coast cities to organize a list of pre-approved "recovery" businesses — like grocery stores, banks and pharmacies — to return early, local officials have moved in the opposite direction to manage a delicate process.
After a disaster, residents want to start rebuilding their homes. Businesses want to resume selling things. Service workers want empty streets so they can get power, water and sewage systems restored at a faster pace. Police officers want to focus on places susceptible to looting.
These competing perspectives are layered on the underlying question of when to let people into areas with limited supplies and unusual hazards. Too much, too soon would add strain to the damaged water, electrical and sewage systems, emergency officials said.
Local leaders decide who can return and when during an evacuation order. In extreme cases, considering the several municipalities in Jefferson County alone, contrasting decisions could make for patchwork rules as neighboring cities alternate between open and closed.
Local officials said that in the future, they would cut down that possibility and collaborate on openings. But Goodson and Griffith's disagreement during Rita showed that their decisions don't always align.
Differing Orders Cause Issues
In Port Arthur, officials were burdened by the county's early reopening, the city's police chief said.
Chief Mark Blanton said dissonance among leaders during Rita caused practical problems because cities were forced to deal with people who either mistakenly thought they were allowed to return or who tried to sneaked in using the open back roads.
Neighboring jurisdictions must coordinate before lifting evacuation orders and do a better job of communicating with residents who aren't yet allowed back in, Blanton said.
"A lot of people snuck in. They had nothing to survive on," Blanton said. "Then they turned to emergency management for supplies, and we're having a hard enough time taking care of ourselves, much less fend for others."
It was this environment that greeted emergency responders and the first people to return.
Port Arthur officials set up a makeshift emergency room inside the Holiday Inn on Jimmy Johnson Boulevard. Treated there were police officers whose faces were splashed with fuel while using hand-held canisters, people with broken window glass embedded in their skin and a kid bitten by a starving dog, one of many set free from backyards by Rita that turned "feral," Blanton said.
Outdoors, workers were passing out from heat exhaustion. With no power and no running water, safe havens were few and far between. Roadway debris was so plentiful that one officer spent entire days changing tires.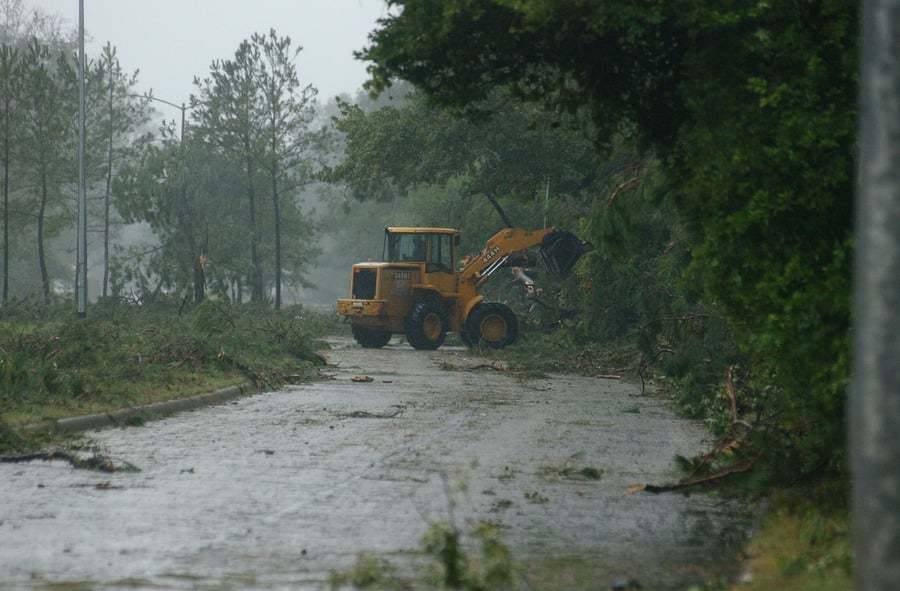 After sunset, starlight couldn't pierce heavy cloud cover, leaving Port Arthur, one of the hardest areas hit by the storm, in pitch-black darkness.
"I've never seen it that dark in my lifetime," Blanton said. "You would actually get dizzy because it was totally dark if you didn't have a flashlight."
In nearby Port Neches, police officers working the graveyard shift in the hurricane's aftermath went to the Neches River nightly to fill up buckets so that officers working the next day could flush toilets, Police Chief Paul Lemoine said.
State supplies took far longer than expected to reach Jefferson County. Police and firefighters collected food that could rot, like frozen meat, from grocery stores, but feeding first responders was initially difficult.
"We've got fire keys, we can go into [closed stores]," Griffith said, citing the federal Stafford Act for the authority to do so. "In every instance, without one [exception], no one charged us for food."
Conditions Fuel Conflict
Perhaps no post-Rita event illustrates how rapidly social brotherhood can fracture into survivalism in the absence of fundamental necessities than a conflict between the Nederland and Port Arthur police departments over who would receive a tanker truck lugging gasoline.
With enough fuel in sight to light and cool their stations and fill their cars, two police officers turned on one another, their training, courtesy and reasoning forced to reckon with need. Dark nights and scorching days made possession of this elusive petro-treasure of the ultimate importance.
"It can tell you the level of stress that people were under to hijack a fuel tanker to take it from one place to the other," Griffith said.
Nederland Police Chief Darrell Bush said an NPD officer was waiting to meet an oil tanker in the parking lot of Port Arthur's Walmart. A Port Arthur officer also arrived. When the tanker pulled in, according to Bush and others, the officers argued over who would take the fuel. Neither backed down.
"[Fuel] was such a scarce commodity," said Blanton, the Port Arthur chief. "It wasn't unreasonable at the time."
Bush was summoned, as were Port Arthur officials. They resolved it peacefully.
The truck went to Nederland first, then to Port Arthur.
"He [the driver] had enough to fill up both," Bush said.
Officials Go Their Own Way
People need specific items — fuel, food, lumber, insurance appraisals, access to money — in order to accomplish their goals, making recovery a tangled series of unlocking access to one thing so that another can be attained.
State governments across the Gulf Coast recommend staggering returns in a way that holds residents out until specific types businesses have reopened, which is designed to prime an area for an influx of people with critical needs.
These systems are often regulated in the form of locally issued badges, placards or stickers. Businesses apply and those who qualify for early re-entry are assigned a tier. Critical businesses and first responders come back first, then other key businesses and finally the general population. Local leaders decide when to active each wave of returnees.
Under current plans, Jefferson County and Beaumont officials will not pre-determine any companies or categories of businesses allowed to make an early return, beyond what they collectively call "critical infrastructure", which is first responders, utility companies and businesses critical on a national scale, like refineries and pipeline companies.
Nor will they issue local identification for getting back in early, which means the infamous re-entry holograms from Rita are gone, another departure from suggested practice across the Gulf Coast.
"Critical infrastructure will be the only ones during a mandatory evacuation allowed back in," said Greg Fountain, Jefferson County's emergency management coordinator. "Once it's lifted, of course, everybody can come back in."
Otherwise, businesses are not being told ahead of time whether they will be allowed to return early. Instead of pre-determined lists, local officials say their approach will give them more control over an orderly recovery and allow them to maintain flexibility.
If emergency responders identify specific needs, they'll summon specialists to return early.
"It's hard to identify up front everybody that needs to be in," Beaumont emergency management coordinator Tim Ocnaschek said. "Everything is situationally based."
Grocer Opens After Rita
Market Basket President Skylar Thompson, along with some employees and their spouses, lived inside one of his stores following Hurricane Rita, offering a lifeline for hungry residents who rode out the storm.
The intense conditions weren't lost on Thompson and his bunkmates, who had to take care of themselves.
"Police were warning us about the possibility of looting," Thompson said. "A few businesses had been looted and a few houses had been broken into. We were concerned. A few people had personal guns with them just in case."
Thompson stayed four nights at the store before moving back into his home, he said.
Because electricity was down, humidity-induced moisture slicked the tile floors and card purchases were impossible.
So staffers at the Phelan Boulevard Market Basket took orders at the store's entrance, retrieved the requested items and only accepted cash or check, Thompson said. They fed emergency workers and stranded residents while working to get the store on line before the general population returned.
Market Basket is prepared to again operate after a storm. Of 34 stores in Southeast Texas and Southwest Louisiana, at least 14 have permanently installed, full-sized generators, Thompson said. He also has four generators on trailers that can be sent to other stores in selected areas.
But 10 years after sleeping on the store's diaper aisle, when asked, Thompson said he was unsure of how the city's current one-page re-entry guidance affects his business going forward.
"I think grocery stores are [essential businesses]," Thompson said. "We always felt like we were a second tier, not the primary essential, but kind of a secondary essential."
That designation, locally, does not exist.
Later Return a Safer Return
Other hurricane-prone areas make allowances for "recovery-based" businesses.
Louisiana's state government recommended its tiered system after Hurricane Katrina, though local municipalities make the decisions on re-entry.
State officials who helped write the re-entry policy said that making these allowances likely means that the general population will wait a day or two longer before they can come back, but they will return to an area that can better satisfy immediate needs.
"We're just making sure the people we need in there to recover according to a pre-established plan on how to quickly recover an area, make sure those people get back," said Pat Santos, who spent seven years as deputy director of Louisiana's homeland security office and consulted on the state's re-entry plan.
The plan is active in most coastal parishes and in New Orleans. The Texas Department of Public Safety makes the same recommendations. Mississippi's state government recommends a similar system, as does the U.S. Economic Development Administration-funded project RestoreYourEconomy.org.
Local plans do not follow the state's guidance. It is their choice to make, DPS spokesman Tom Vinger said.
"These guidelines do not override local or regional plans, but are designed to complement those planning activities," Vinger said. "Jurisdictions must use their judgment and discretion to determine the most appropriate actions at the time of an incident."
Post-disaster DPS support, like state troopers blocking roads into evacuated areas, is not contingent upon a local government complying with the state guidance, Vinger said.
Exceptions Made During Rita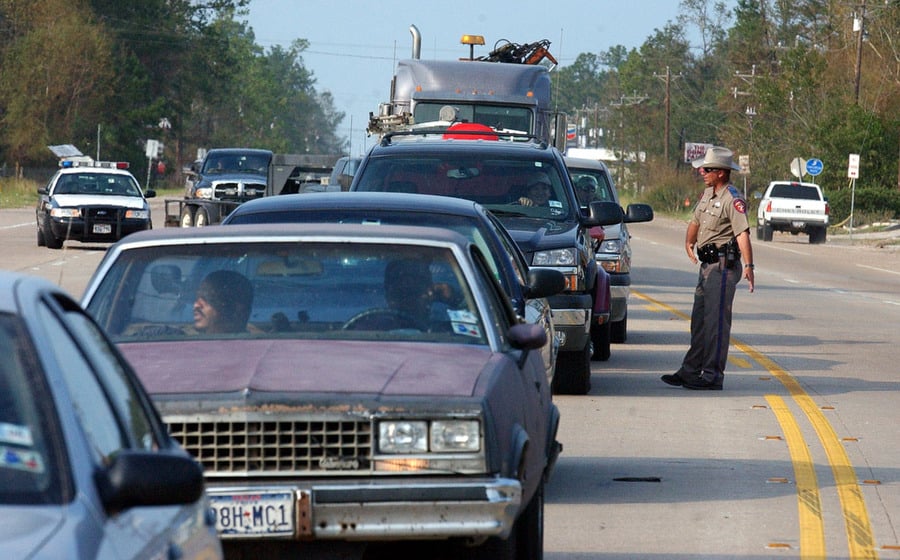 In Beaumont, the lack of a distinct list of recovery businesses removes administrative stress — maintaining year-round databases with a list of eligible returnees, for example — and ensures more control on activity during a recovery, local officials said. It also allows flexibility for emergency managers to make adjustments on the fly depending on the scope of the disaster, they said.
"Some of the [ideas] they're trying, we've tried, and they haven't been successful," Ocnaschek said, referring to coastal Louisiana parishes and other places. "We've had problems with them."
During Rita's aftermath, "recovery" businesses allowed to return early, including media, cleared checkpoints by showing officers a hologram sticker. That system was poorly managed and caused problems, officials said in hindsight.
"The holograms ended up not being an ideal system because obviously a lot of people ended up with holograms I didn't originally plan to be on the list to be necessary to the recovery," Goodson said.
Fountain and Ocnashek stressed that residents and business owners should sign up with the Southeast Texas Alerting Network. People who submit their phone numbers will be kept abreast of recovery efforts, including who can return and when, Fountain said.
Exceptions are essentially the rule, as was sometimes case during Rita. Goodson said he made the decision to close two gas stations that reopened before the city but allowed other groups to come in and operate during the closure.
Insurance agents were allowed to enter the city early to begin assessing damage and get a head start on an impending flood of claims.
Faith-based groups were invited to distribute ice, food and supplies to citizens who rode out the storm and didn't want to leave. These groups were allowed in on the condition that they could provide their own shelter, office space, food, water and other necessities, Goodson said.
This was as rural Jefferson County residents began returning home. Griffith, too, made a post-storm judgment call, saying he lifted the evacuation order because many residents had a pressing need to return and the means to sustain themselves.
"I allowed the rural people to come back because they had cattle, goats, chickens and [other animals] to feed," he said. "They had water wells. They had generators. ... The city wasn't in that shape."
Given problems faced by first responders, and the time it took to get water, electricity and streets ready for residents, Beaumont's former mayor said he had no regrets about keeping the city closed as long as he did. Still, the six-day post-storm closure weighed on him.
"It was such a relief to be able to order the release of the mandatory evacuation," Goodson said.
"It met with mixed reviews, I will tell you, even now. I don't regret it at all, the decisions that we made to try to make sure we didn't have people in harm's way."
The Texas Tribune and the Beaumont Enterprise partnered for a project looking at the 2005 evacuation of Southeast Texas ahead of Hurricane Rita and whether a similar catastrophe can be avoided when the next big storm hits. This website was developed and designed by Ryan Murphy and Ben Hasson.