Three weeks after the world watched in horror as Hurricane Katrina submerged New Orleans and killed more than 1,200 people, millions of terrified Texans learned that Hurricane Rita, a potentially deadlier storm system, was barreling toward their coastline.
What followed was the exodus of more than 3 million people from south and southeast Texas, one of the largest evacuations in U.S. history. As traffic jams stretched across hundreds of miles over two blistering days in 2005, dozens died from accidents and heat-related illnesses, all before Rita even made landfall.
Ten years later, state and local officials point to a long list of steps taken to avoid another catastrophic evacuation. They say they are better prepared when it comes to expanding evacuation routes and requesting aid from areas outside of the hurricane's path.
Yet as Texas' southeast region has swelled by more than 1.5 million residents, highways have not seen a comparable expansion. The result is that the threat of another disastrous evacuation remains, some researchers and officials say, particularly if the state is gripped by a panic akin to the one sparked by the one-two punch of Katrina and Rita.
"I hope we never have another problem where we have roads shut down and traffic stranded for three days," said Nim Kidd, chief of the state's Emergency Management Division. "Could we? I think we could if the communities don't take heed of the messages and the warnings."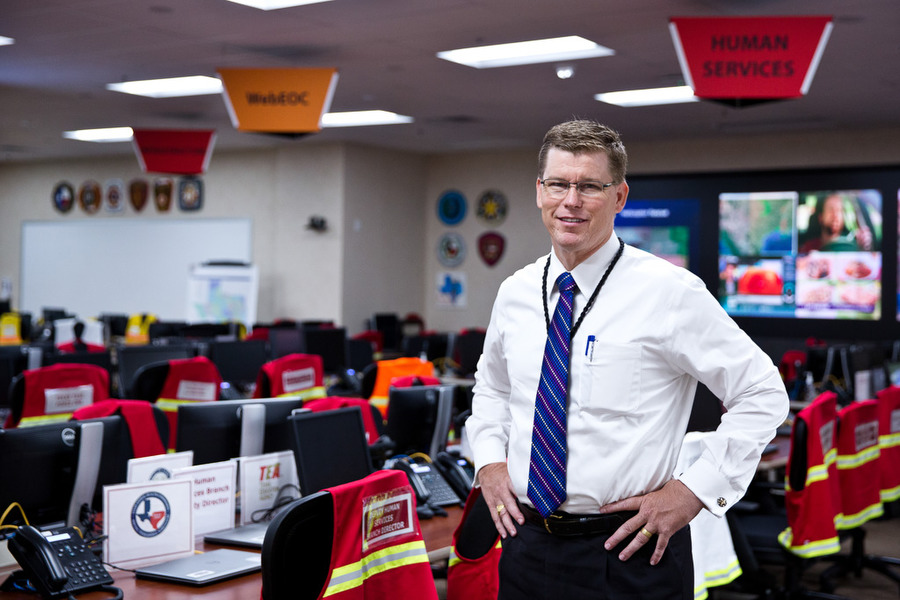 An Unpredictable Route
In the days before Rita made landfall, the storm's erratic path left local and federal officials frantically adjusting their plans and instructions to residents. At first, the storm appeared headed straight for Corpus Christi. Then Houston.
"As the storm continued to progress, it kept moving further and further up the Gulf Coast," recalled John Barton, the Texas Department of Transportation's former deputy executive director who was district engineer of the department's Beaumont district during Rita.
Rita changed course again before making landfall near the border between Texas and Louisiana. Though the Beaumont/Port Arthur area would take the brunt of the storm's wrath, a 300-mile stretch of Texas had already been urged to evacuate.
"If you're on the coast between Beaumont and Corpus Christi, now's the time to leave," Gov. Rick Perry said at a news conference three days before Rita made landfall. "Homes and businesses can be rebuilt; lives cannot."
At a separate event the same day, Houston Mayor Bill White warned, "Don't follow the example of New Orleans and think someone's going to get you."
Millions of Texans fled, with most headed north toward Dallas or west toward Austin and San Antonio. Spurred by images of New Orleans, many evacuated from communities that were not viewed as seriously at risk for major damage.
"Everybody left. Everybody was fearful for their families," said Russell Henk, a senior research engineer at the Texas A&M Transportation Institute. "I'm not saying they were wrong, per se, but it added tremendously to the demand on the system."
Highways Become Parking Lots
Two days before Rita made landfall, large stretches of Interstates 10 and 45 resembled parking lots. Other highways saw, at times, more than five times the number of cars as on a normal weekday, according to A&M Transportation Institute data.
Along the busiest routes, dozens of cars broke down, ran out of gas or were abandoned. Often, those vehicles remained on the road, creating additional chokepoints on already clogged paths.
Adding to evacuees' frustration on I-10 and I-45 were the open inbound lanes. Texas did not immediately implement a "contraflow plan" on those two highways. More than a day after the mass evacuation had begun, state and local officials finally opened all lanes on the two interstates to outbound traffic, a cumbersome process that involved barricading more than 100 exit and entrance ramps to prevent head-on collisions. To many drivers, the conversion came hours too late.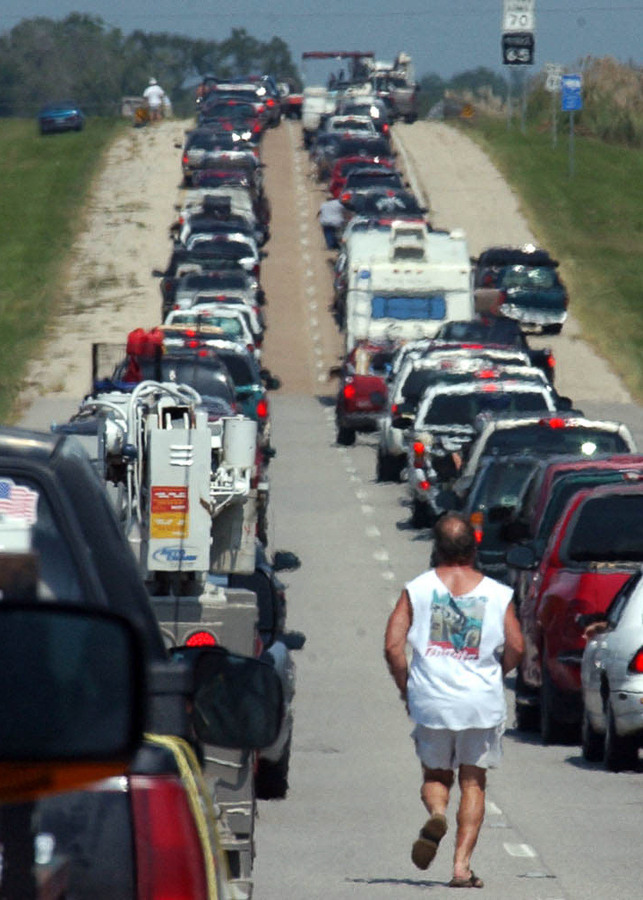 Of the 139 deaths that the state linked to Hurricane Rita, 73 occurred before Rita reached Texas. Twenty-three people died in a bus fire. Ten others died from hyperthermia due to heat exposure.
When Rita did reach land, its accompanying 15-foot storm surge and 120 mph winds wiped out homes and knocked over utility poles in the Beaumont/Port Arthur area.
"It literally looked like a bomb had hit our community," recalled then-Jefferson County Judge Carl Griffith.
While Rita was destructive, its impact covered a smaller area than originally feared. It was clear in hindsight that many evacuees would have been better off riding out the storm at home. State and local officials immediately began changing laws and tweaking programs to ensure future evacuations go more smoothly.
Lawmakers ordered the state's emergency management division to work closer with local communities to coordinate hurricane response plans, including finding ways to restore power sooner — a move advocates hoped would encourage residents to stay home if their communities are not at risk for major damage.
It's now also easier for emergency workers from other parts of the state to help during a crisis, Kidd added. During Rita, officials complained that liability concerns had blocked some governments from offering resources. In 2007, lawmakers created the Texas Statewide Mutual Aid System to cut through such red tape.
In addition to being better prepared to launch contraflow operations, Barton said, state and local authorities also participate in drills to ensure various agencies stay familiar with the process.
"The real pivotal point in how Texas responds to hurricanes was Hurricane Rita, and what we experienced there," Barton said.
The Ike Test
The revamped evacuation system underwent its first test in 2008, when Houston and Galveston were in the path of Hurricane Ike. More than 1.5 million people fled their homes, spurred by evacuation orders in more than a dozen counties. Travel times for evacuees averaged six to eight hours, compared with 18 to 24 hours ahead of Rita, according to the Houston-Galveston Area Council. One assessment tallied 74 deaths in Texas related to the storm, with seven occurring before Ike made landfall.
The Ike evacuation was also aided by tens of thousands of residents refusing orders to leave. For many, that decision was driven by the still-fresh memory of Rita.
Eric Pallares of Houston recalled evacuating from Rita 10 years ago in a Ford pickup with his newborn son, his son's mother and her family. The drive to Dallas, which normally took less than four hours, lasted 25 hot, hellish hours. When they returned home, the only sign of Rita's impact was some downed trees.
"It just looked like we had a rain storm," Pallares said.
The experience was so frustrating that three years later, Pallares stayed put for Ike. Despite a harrowing night in which his home took on a foot of water and the wind was beating hard against his boarded-up windows, he said he would probably make the same decision again.
"I remember telling myself, 'Just stay here. Just ride it out. If it's your time to go, it's your time to go,'" Pallares said.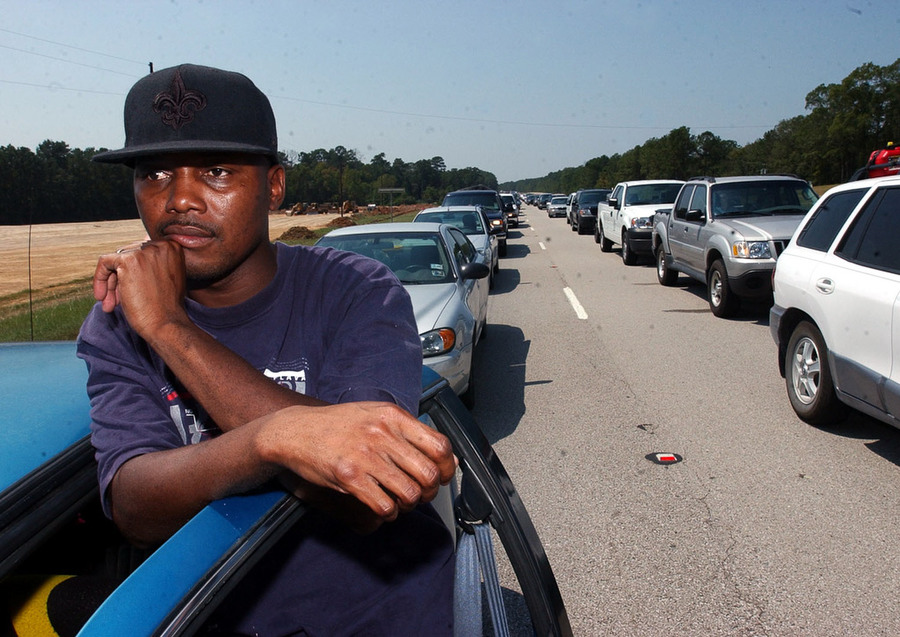 With many across southeast Texas and the Gulf Coast sharing Pallares' mind-set, state officials are well aware of the importance of providing clear evacuation warnings targeting residents in the most danger.
Could There Be a Repeat?
While many problems have been addressed, Southeast Texas' growing population continues to fuel concerns that an evacuation filled with traffic jams could happen again.
"The consequence of new people moving into the community or just moving around the community is they're not familiar with their risk," said Robert Stein, an urban politics fellow at the Baker Institute at Rice University who has studied emergency preparedness and severe weather events.
Between 2005 and 2014, the population of a 40-county area covering southeast Texas and the Gulf Coast grew by 20 percent, or more than 1.5 million people. Over the same period, highway lane miles in that region grew by just 5 percent, or 1,707 miles, according to state data.
"The capacity of our highways, you can't build them for an evacuation," Griffith said. "There just isn't enough money in the state to do that."
Barton, with TxDOT, disagreed that a rerun of Rita's crippling traffic congestion is a serious concern. Not only has the state improved its contraflow lane plan, he said, the shoulders of major evacuation routes like I-10 have been expanded to be converted to "evaculanes" if needed. Traffic sensors along different routes also make it easier for state and local planners to know where vehicles are backing up.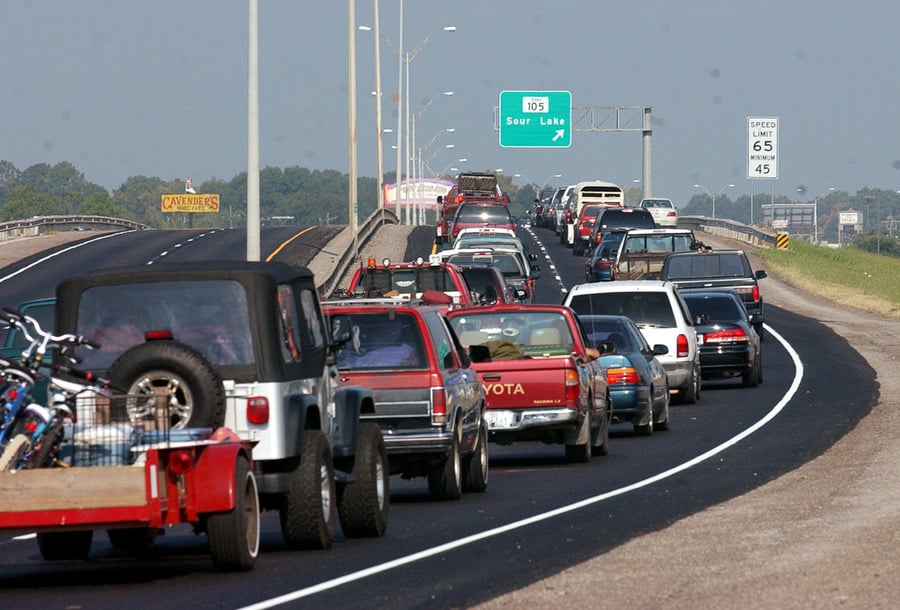 "We're much more informed now than we were with Rita because we have all that technology in place along those hurricane evacuation routes," Barton said.
How Texans prepare in advance of a major storm and what evacuation messages they hear from local officials and the media will determine the next big response, researchers say. The key will be stemming overreaction and maintaining calm.
"I think a lot of that is going to depend on human nature," said Darrell Borchardt, a senior research engineer at the Texas A&M Transportation Institute. "A lot of the Rita response was because it was just right after Katrina and people had all those images in their mind of New Orleans and everyone thought that was going to happen here."
Texas A&M University and Rice University are corporate sponsors of The Texas Tribune. A complete list of Tribune donors and sponsors can be viewed here.
Stories written by The Texas Tribune are available for republication. To republish this story, contact Natalie Choate.
The Texas Tribune and the Beaumont Enterprise partnered for a project looking at the 2005 evacuation of Southeast Texas ahead of Hurricane Rita and whether a similar catastrophe can be avoided when the next big storm hits. This website was developed and designed by Ryan Murphy and Ben Hasson.