The memory of a Kelly Air Force Base hallway covered with multicolored Post-It notes and scraps of paper in September 2005 still resonates with Nim Kidd, who was then a district fire chief in San Antonio.
After Hurricane Rita hit the Texas coast, the hallway served as a makeshift communication hub for roughly 36,000 evacuees in San Antonio, many of whom did not know which of the half-dozen area shelters housed their family and friends. They papered the hallway with notes to friends and family listing information on how to reach one another.
"There was no way to track where people were coming from or where they were going," Kidd said. "This main shelter reception hub was really where people would come put their notes up."
Evacuees weren't the only ones relying on non-tech solutions: Emergency management officials used whiteboards to organize their operations during Rita, meaning county and state operations centers had no easy way to see one another's efforts in real time. Without a centralized system and an easy way to broadcast information across the state, Texas residents and officials were in a communication crisis when Rita hit.
Ten years later, with the rise of social media and better communication technology, emergency responders feel more prepared for the next big hurricane, said Kidd, who is now Texas' top emergency management official.
"It's changed the way we will respond to all disasters because families can respond faster," Kidd said.
Texas also has better predictive weather models that should lead to more efficient and controlled evacuations. New satellite and hotspot technology will allow first responders to get online quickly, regardless of the power situation. And families with smartphones have more sophisticated communication tools to stay in touch, Kidd said — although such technology could still be slow and erratic in the hours immediately following a hurricane when cell towers and Internet providers are damaged or overwhelmed by demand.
Here's a look at how some new technology could make a difference when the next storm hits.
Advances in Meteorology
Better technology means meteorologists can more accurately predict where hurricanes will make landfall, Jefferson County Emergency Management Coordinator Greg Fountain said. This has improved officials' ability to determine whether and where to mandate an evacuation and prevent residents from fleeing unnecessarily.
"We know the hardships it puts on the people that are having to evacuate, both monetarily and physically," Fountain said. "Jefferson County refineries produce about 16 percent of the nation's gasoline — it has ripple effects across the country on the price of fuel."
To anticipate a hurricane's movements, meteorologists compute predictive models that account for weather conditions, such as estimated wind speed, and pull information from satellites. In the last 10 years, these models have become more accurate because of increased computing power.
Days before Rita made landfall, models estimated the hurricane would hit Matagorda Bay, about 200 miles south of Beaumont. But the forecast was changing fast, said Donovan Landreneau, a National Weather Service meteorologist. At one point, the storm appeared headed for Houston before shifting to Jefferson County. This left forecasters "chasing their tails," Landreneau said.
With the new technology, the margin of error in predicting where a hurricane hits has decreased from about 60 to 65 miles in 2005 to about 50 miles today, Landreneau said. This makes evacuations more efficient, as forecasters can better identify which areas will face heavy winds, rain and storm surge.
"If we were to redo Rita, if they would take the data we had 10 years ago and put it in these computer models, it may have spit out a little more accurate forecasts," Landreneau said. "That's probably where the technology is going to be most beneficial today."
Emergency Management Software
After Rita made landfall, operations centers lacked an easy way to coordinate their actions in real time.
"We had just started using [emergency management software] in the Katrina/Rita time period," Kidd said. "But back then dry erase boards were still the go-to tool" for functions like monitoring shelter capacity and firefighting operations.
Since then, new software has improved coordination and organization of emergency management operations.
Kidd highlighted the WebEOC — short for web-based emergency operations center — used by emergency management centers at local, state and federal levels. The software allows responders in the field to submit aid requests to a command center, where workers can view disaster information on interactive maps.
The software also helps command centers monitor shelters' capacity and ability to provide services.
"We're sharing information across jurisdictional lines, cooperating with each other," Kidd added.
Another software program used by some search-and-rescue operations in Texas, Geosuite, allows on-site emergency responders to transmit information on damage, hazards and search-and-rescue missions to operations centers. Although cell towers and Internet connections may be down when emergency responders initially arrive on the scene, the program lets them store data and transmit it once have an Internet connection.
The program was used by Starflight, a Texas-based aerial emergency response team, when heavy floods hit Texas in May.
Mapping software has also improved. When Starflight director Casey Ping was deployed to a Houston operations center during Rita, he carried a binder of CDs containing topographical maps of Texas. Now, such maps are instantly available online for use at operations centers.
"That's probably the biggest leap forward since Rita as far as this technology," Ping said of emergency management software.
Mobile Satellite Units and Hotspots
About 50 state emergency response vehicles now each have 15 radio channels and satellite dishes that support telephone communications. When power lines and cell towers stop working, state officials are still able to communicate with one another, Kidd said.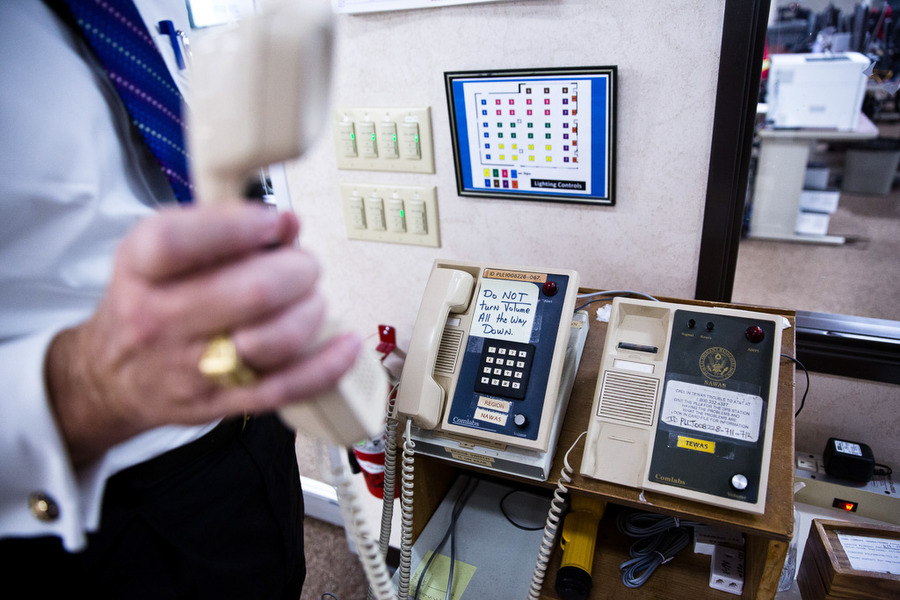 "We've gone to wildfires and floods where first responders get out there and don't have that capability," Kidd said. "Our vehicle pulls up, it's turned on, they see the Wi-Fi signal, they jump on and we're sharing data faster."
State vehicles also have hotspots that can provide Internet access for 20 first responders in areas where cell networks are available. State officials communicate with private companies, such as AT&T and Verizon Wireless, which can provide hotspots for the general public to use at shelters, Kidd said.
In Harris County, officials send emergency vans to areas with the worst communication capabilities or where cell towers have stopped working. Officials sometimes set up two hotspots, one for emergency responders and one for locals.
Congestion on Harris County evacuation routes in rural areas jams cell towers that are often only equipped to serve a local community, said Francisco Sanchez Jr., a spokesman for Harris County's emergency management office. County vehicles with mobile hotspots can travel to those areas and allow some drivers stuck in traffic to make calls, though the technology supports only a limited number at a time.
Smartphones and Social Media
After a hurricane hits, private cell providers will work to ensure residents can use their phones if cell towers go down, said Fountain, the Jefferson County emergency management coordinator. That can include bringing in vehicles that serve as mobile cell towers, known as cellular on wheels units.
"They really do a good job," Fountain said. "They have the [cellular] on wheels units they can roll into an area and have systems back up pretty fast."
Although many evacuees had cellphones during Hurricane Rita, smartphone technology was not widely used. The Pew Research Center found 35 percent of Americans owned smartphones in 2011, the first year it collected such data. That number climbed to 64 percent in 2014.
In areas with cell service, smartphone users will be able to communicate and stay informed far more easily.
They can access hundreds of applications to see real-time weather forecasts, read updates from emergency management offices and find alternative traffic routes. And widely available portable external batteries can help people keep their phones charged longer.
State and local officials say they plan to use social media to keep residents informed.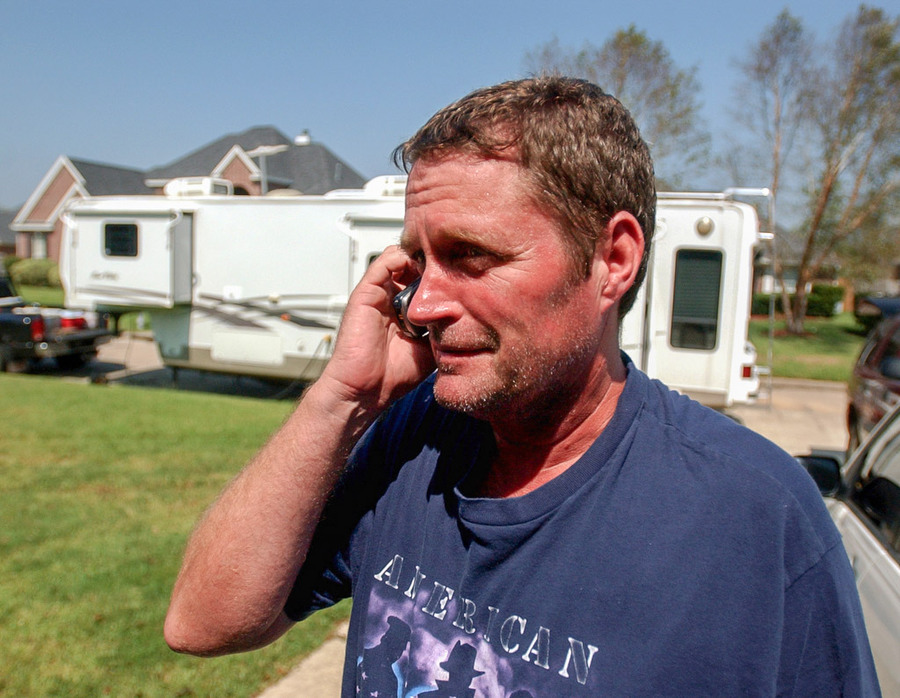 In July, Harris County emergency management officials joined forces with the National Weather Service, the Texas Department of Transportation and others to test the ability of social media to keep the public informed during and after a disaster.
The county has used its online outreach during other natural disasters, but not during a hurricane, when the demand for information is greater and the area affected is larger, Sanchez said. However, during past wildfires and floods, Harris County learned new lessons in addressing the demand for information on road closures, floods, school closures and power outages. Graphics proved to be more effective than text in dispersing information, and officials could better reach residents using hashtags already trending on Twitter.
Jefferson County relies largely on its mass notifications system, which calls registered residents to alert them about emergencies like hurricanes. But Fountain said the county also updates its Facebook page with notifications, a practice other coastal counties follow.
Kidd said the problems during Rita that led to the disorganized communication center at Kelly Air Force Base will be largely fixed by smartphone technology.
"The old Post-It note wall has been replaced by social media and people on their smartphones," Kidd said. "That's a huge change and a game changer for us in emergency management."
AT&T and Verizon are corporate sponsors of The Texas Tribune. A complete list of Tribune donors and sponsors can be viewed here.
Stories written by The Texas Tribune are available for republication. To republish this story, contact Natalie Choate.
The Texas Tribune and the Beaumont Enterprise partnered for a project looking at the 2005 evacuation of Southeast Texas ahead of Hurricane Rita and whether a similar catastrophe can be avoided when the next big storm hits. This website was developed and designed by Ryan Murphy and Ben Hasson.