Fleeing a monster hurricane was frightening enough for the Shield family.
Then they ran out of gas.
"To me, it was a bad dream," said 50-year-old Port Arthur resident Carlina Shield, recalling the September 2005 day when she, her husband, Jeffrey, two kids and a grandchild left their home ahead of Hurricane Rita and headed toward Dallas. "Being stuck on the road for that many hours, just one place, that was scary."
After driving more than 120 miles in bumper-to-bumper traffic, the car stalled in Lufkin, Shield said, leaving the family stranded along the highway with a dry gas tank.
"On the radio – I forgot what station it was – they kept saying somebody was coming back there, somebody was coming," Shield said. "But nobody came for us."
The family had company. Hundreds of Texans along the Gulf Coast ran out of gas while trying to escape the hurricane. Their stationary cars only worsened the gridlock along evacuation routes, and led to long lines at gas stations, many of which also ran short of fuel.
The next time a hurricane forces Gulf Coast residents to flee, state officials say such a nightmarish scenario is less likely to occur. They point to an eight-year-old partnership with the petroleum industry that they say has made major strides in ensuring fuel gets where it's needed during evacuations.
That public-private partnership is designed to get underway five days before a storm makes landfall, and it is equipped with tools to:
Ensure gas stations keep more fuel in reserve for evacuations
Pinpoint spots that are running low on gas after residents hit the road, and help tankers haul in reinforcements, even when roads are closed
Refuel some evacuees who run empty miles away from a gas station
"The emergency management template that was developed as a consequence of Rita is fully functioning today," said Todd Staples, president of the Texas Oil and Gas Association and the state's former agriculture commissioner.
While officials said the system  worked well during Hurricane Ike in 2008, it has yet to see another major test.
"The good news is the plans are there. The bad news is, muscles that don't get exercised tend to get weak," said Bruce Bullock, director of the Maguire Energy Institute at Southern Methodist University.
The Texas Legislature created the public-private "State Fuel Team" in Rita's aftermath, seeking to bolster an evacuation process riddled with problems. At least one other state — Louisiana — has since adopted the idea, and the federal Department of Energy has highlighted the team's efforts.
"It brought together the manufacturers of fuel, the transporters and distributors of fuel, the retailers of fuel, and said: Where's the fuel?" Nim Kidd, the chief of Texas' Division of Emergency Management, said in an interview.
The team combines the efforts of private business and state agencies. Included is the Texas Oil and Gas Association, the Texas Petroleum Marketers and Convenience Store Association, supply terminals and other companies in the supply chain, the Texas Department of Transportation, and the Department of Public Safety.
Rita exposed simple problems when it came to fuel: Lots of corner stores and other fueling stations didn't keep their underground storage tanks full at a critical time, and many of the 3.6 million Southeast Texans fleeing the coast did not fill up before hitting the highways. Fuel demands rapidly overwhelmed local supplies. And with roads shut down or clogged, gasoline tankers struggled to bring in reinforcements.
State officials were slow to deliver on promises to send reinforcements, frustrating evacuees.
"What we know now is there was no fuel plan," Jack E. Little, a former Shell Oil Co. president and CEO, told the Houston Chronicle in 2007 as he chaired then- Gov. Rick Perry's Task Force on Evacuation, Transportation and Logistics, which laid the groundwork for the State Fuel Team. "Every company was on their own."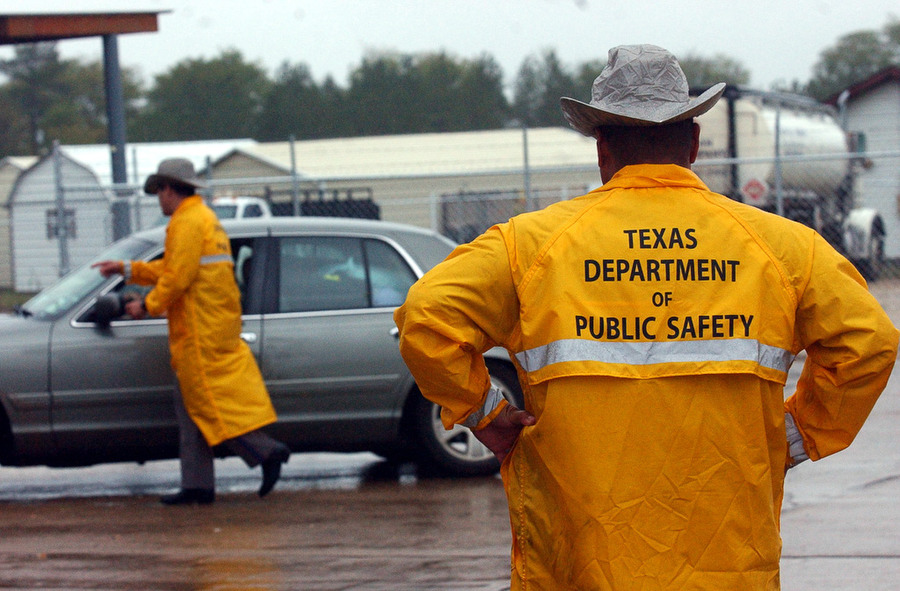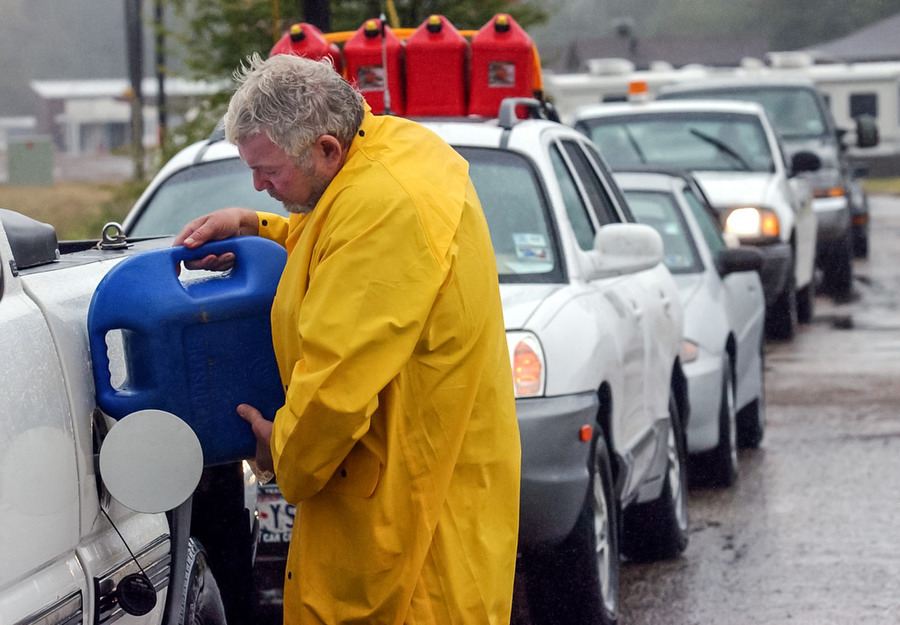 The Shield family was among those that got stuck, waiting for fuel near a Lufkin station. At one point, a tanker came, Carlina Shield said, but others ahead in line drained its supply before her family reached the pump.
The wait turned from frustrating to frightening as day turned into night, with no sense of when help would come.
"On a dark road, cars just sitting there," she said. "You just don't forget that."
Ultimately it was relatives – not state or local officials – who came to their rescue. Jeffrey's brother drove in from Tyler, about 85 miles northwest, with 5 gallons of gas, enough to get the family to a hotel, where they regrouped before driving to Dallas the next day.
The fuel team aims to prevent a repeat of such wide-scale confusion, serving as a communication hub for all levels of the fuel supply chain. Along with shuttling gas where it's needed, the team oversees shutdowns of refineries that hunker down for storms, and it sends out public service announcements through traditional and social media and highway signs  encouraging Texans to keep their tanks full during hurricane season.
In many ways, industry officials call the shots.
"That's the beauty of it. The government does not tell the industry, 'Go fill up every one of the tanks right now,'" said Kidd.
But the government also plays an essential role, sending messages to the public, and opening up workspace  in its Austin-based State Operations Center – the underground heart of Texas' emergency response efforts, where display screens stretch across the walls much like NASA's mission control.
Police now escort tankers down closed roads, when needed, and in extreme shortages, the state may also grant emergency waivers for the use of fuel that would otherwise violate emissions standards.
The partnership's first major test came in 2008. In the days before Hurricane Ike made landfall, Shell, ExxonMobil and other retailers beefed up supplies at gas stations, allowing most evacuees to fill up.
By all accounts, the plan worked well, with just minor hiccups. Some gas stations, for instance, briefly ran out of fuel after the storm passed, as residents returning to the coast filled up.
Since Ike, Texas has improved even more of its capabilities. For instance, Texas Department of Transportation officials can now help motorists stranded far from gas stations. In years past, state fuel tankers couldn't fill up cars directly because they lacked the right kind of nozzle, Kidd said. Now, the transportation agency can send out dozens of what it calls "Transcubes," mobile delivery units that can carry up to 780 gallons of unleaded or diesel fuel.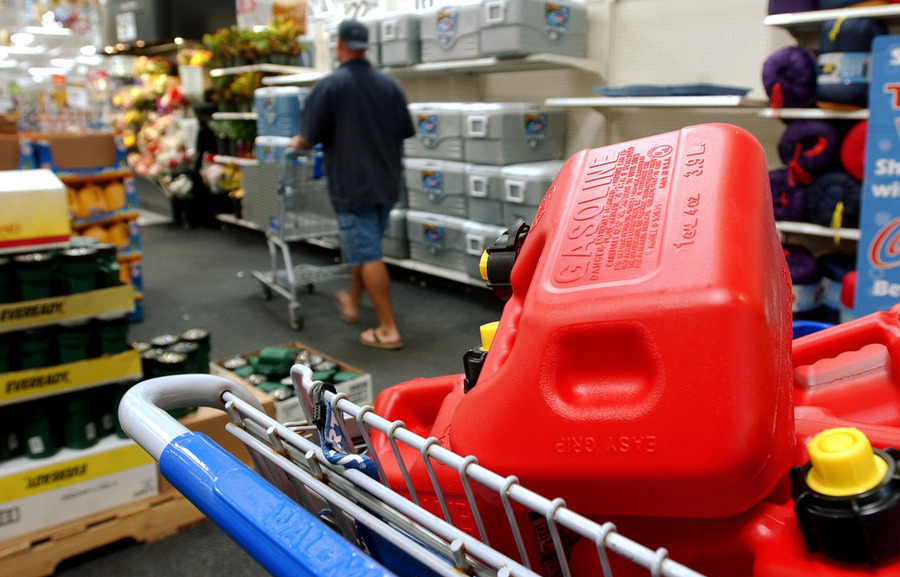 The fuel team has also responded to several smaller weather-related emergencies in recent years, such as ice storms and flooding. And though agencies and industry officials frequently participate in drills for various scenarios, the lag time between storms prompts questions about how prepared they will be for the next big hurricane.
"Seven years later, we've got more roads, more people and more facilities," said Bullock of the Maguire Energy Institute.
So could Texas see fueling problems on Rita's scale in the future?
"I think we could," Kidd said, but only "if the community doesn't take heed of the messages you and I are sharing with them."
Carlina Shields promises her family will listen, because Rita left an impression that stretched beyond the damage to their home, since rebuilt.
"When they say we have to leave, we will go and fill up gas cans," she said.
ExxonMobil is a corporate sponsor of The Texas Tribune. Southern Methodist University was a corporate sponsor of the Tribune in 2013. A complete list of Tribune donors and sponsors can be viewed here.
Stories written by The Texas Tribune are available for republication. To republish this story, contact Natalie Choate.
The Texas Tribune and the Beaumont Enterprise partnered for a project looking at the 2005 evacuation of Southeast Texas ahead of Hurricane Rita and whether a similar catastrophe can be avoided when the next big storm hits. This website was developed and designed by Ryan Murphy and Ben Hasson.