When Carol Johnson considered which used car to purchase for her teenage son, a decision that would come down to convenience and price for most, she weighed the benefits of automatic and manual windows. For her, it was about life and death.
What if her son, a young black man, was stopped by police and a malfunction made it seem like he was refusing to lower an automatic window? But manual windows would require him to drop his arm to reach the handle  — what if an officer thought he was reaching for a weapon?
She eventually opted for a "generic" pickup, with manual windows, that her son drives to school and work. If he's ever pulled over, she instructed him, he should keep his hands on the steering wheel until he can inform the officer about the windows. A printed insurance card is always taped to the visor on the driver's side. That way, he'll never have to reach toward the glove compartment, Johnson says.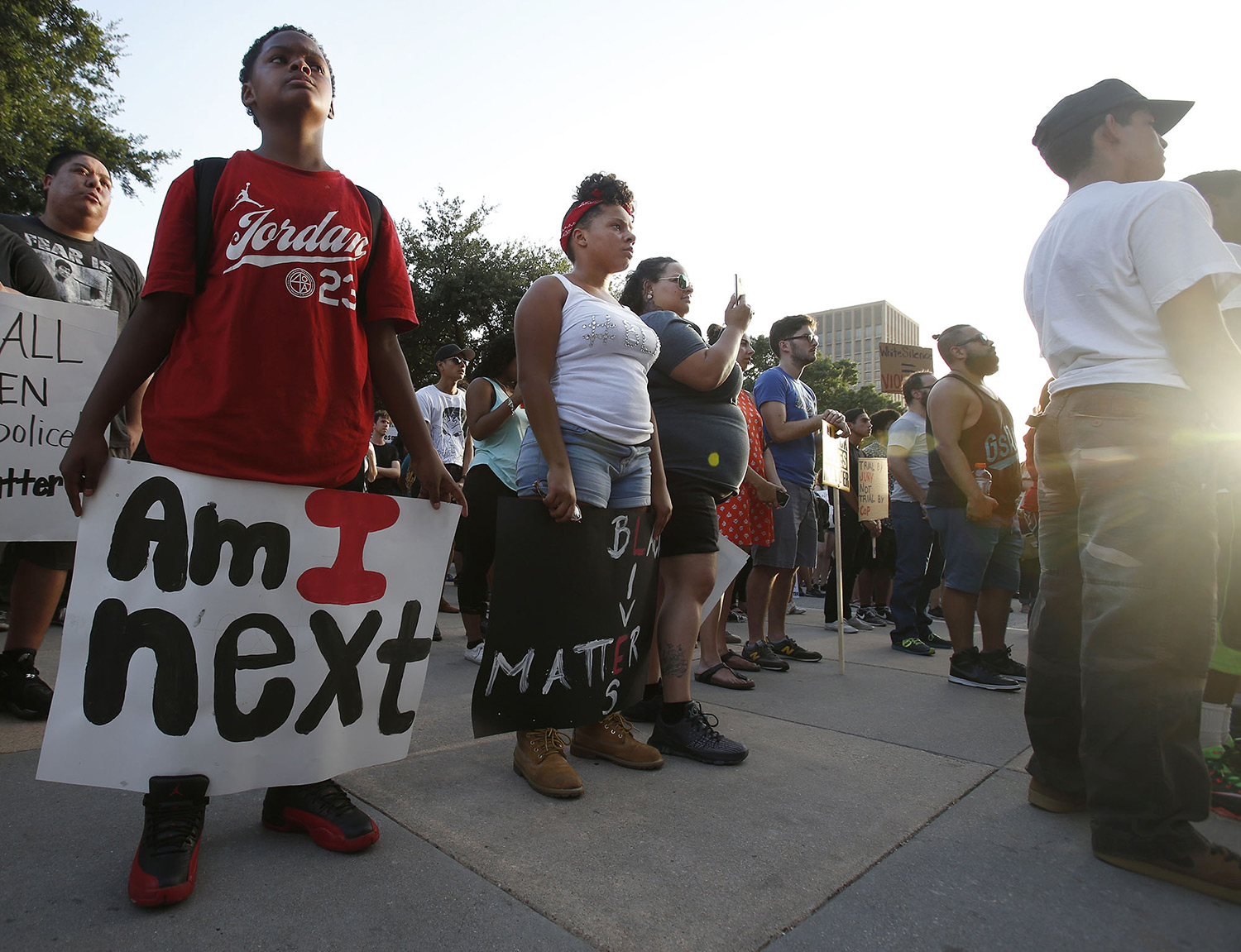 "I'm probably overthinking it to save his life," said Johnson, a 49-year-old Dallas County employee. But her attention to those sorts of details — which she ran by a police officer before buying the truck — are part of today's reality for families of color, she added.
There is a shared conviction within communities of color that interactions with police are more likely to end in arrest, violence or death. As video recordings of police behavior have become prolific and easily shareable on social media, examples of that risk have been thrust into the nation's consciousness. There is a wider comprehension of where fears like Johnson's come from, particularly among white people and others who might have dismissed them before as exaggerations.
These shared concerns have only been heightened by recent police shootings in places such as Ferguson, Missouri, Falcon Heights, Minnesota, and Baton Rouge, which have inflamed racial tensions.
Amid the attention over officer-involved shootings, police departments across the nation are being forced to defend their reputations and behavior. They're looking at how officers are trained and ways to become more transparent to the communities they serve.
Policymakers and the public have begun to question with renewed fervor whether police shoot at minorities at a disproportionate rate, whether it's possible to tell how often and what can be done about it.
In Texas, the numbers seem to support claims that police are more likely to shoot at people of color.
From 2010 to 2015, almost 41 percent of individuals shot at by police in Texas' largest cities were black, according to a Texas Tribune analysis of police shooting data obtained from 36 cities with populations greater than 100,000. By contrast, black residents make up only 14 percent of the population in those 36 cities.
It's difficult to discern the share of people shot at by police who were Hispanic. At least 29 percent were Hispanic, which is lower than their share of the population in those cities, almost 45 percent. But it appears some police departments do not distinguish between race and ethnicity, meaning many Hispanics are likely misidentified as white in police data.
But parsing those numbers is an oversimplification of police interactions with minorities. Behind bottom-line figures are individual interactions — the outcomes of which boil down to what's inside the head of a police officer at a very specific moment in time when they're confronted with an unpredictable situation. For those with a stake in the matter, the question is whether there's a subconscious difference in the way police officers react when responding to calls that involve black individuals or other people of color.
"If a cop shot at someone because of their race, that cop should rot in jail, period," said Kevin Lawrence, executive director of the Texas Municipal Police Association. But almost always, "there's really no doubt" that shootings are justified based on an officer's perception that their lives — or the safety of the public — are in danger, he added.
Those perceptions are what criminal justice experts, activists and people of color say could more likely put minorities on a deadly trajectory when interacting with police.
Perceptions matter
Socioeconomic factors common among minorities, such as living in areas with higher poverty and crime rates, may lead to increased interactions with police that could result in shootings, experts say. But they also point to implicit racial bias — preconceived perceptions of someone based on attitudes and stereotypes — as something that can be at play, and must be accounted for when training police.
"I think the one thing that certainly probably matters more for African-Americans — and arguably increasingly for Latinos — over the next 10 years or so at least will be perception, stereotypes and implicit biases," said Scott Bowman, associate professor of criminal justice at Texas State University. "The instances where a person gets shot and killed because they say, 'I thought I saw a gun,' when there wasn't one or this person reacted in an aggressive manner — that's a perception thing."
Those perceptions can come into play during any police interaction. In June 2015, a white Austin police officer body-slammed and arrested a black elementary school teacher during a confrontation following a traffic stop.
While transporting the teacher in a police cruiser, a second officer told her that people, particularly whites, are afraid of black people because of "violent tendencies" and that even officers who undergo psychological screening can later display racist demeanors toward people of color, according to recently released police video. The Travis County District Attorney's office and Austin police officials are investigating the incident.
Unarmed people shot at by police from 2010 to 2015 were far more likely to belong to a racial or ethnic minority group, according to the Tribune's analysis. Forty-six percent of unarmed people shot at were black; at least a third were Hispanic.
Because there is no comprehensive national or state-by-state record-keeping of police shootings, it's impossible to know how Texas compares to other states or cities.
Not only were whites far less likely to be shot at if unarmed, they were were less likely to be shot at in general. Individuals identified by police as white — including some Hispanics who were likely misidentified — made up 29 percent of those shot at by police. Meanwhile, white people make up 34 percent of the population in the 36 cities studied by the Tribune.
"If you're carrying Skittles, if you have a hoodie on, if you're walking out of a convenience store — for every normal aspect of public life, black and brown people have been killed," said Sara Mokuria, co-founder of Mothers Against Police Brutality, an advocacy group focused on police use of force. Sensitivity and cultural training needs to be continuous — not just something that's part of a police academy for new hires, she added.
"The reality is that racism is like smog," she said. "We all breathe it in; it's part of our lives whether we like it or not."
Training vs. moral compass
Responding to concerns about use of force, some departments across the state have worked to increase transparency when it comes to data on shootings and investigations. Some have revised their policies following police shootings, instituted citizen review panels and increased training on use of force, crisis intervention and cultural diversity.
The Texas Commission on Law Enforcement, which sets training requirements for police, requires instructional time on those three areas as part of the minimum curriculum requirements for police seeking to be licensed as peace officers.
Some departments go beyond that, adding training on de-escalation tactics. In diverse hubs like Houston, police officers are taken on field trips and bus tours through the city so officers can meet with leaders of different minority communities.
Beyond racial sensitivity training, responding to racial disparities among those shot at by police in Austin means focusing on the merits of using force when responding to a call.
"The officer, their decision, has to be reasonable in the moment based on the circumstances they were confronted with regardless of the race, gender, or anything else of the individual they're interacting with," said Austin police Chief of Staff Brian Manley. But the department's culture includes a directive to officers that "just because you can, doesn't mean you should" and that even if using force is in line with policy, that "doesn't mean that it's moral and doesn't mean that it's right," he added.
That directive — based on the reality that police shootings come down to human interactions driven by individual actions and perceptions — is part of what police departments are grappling with as they work to improve police-community relations. All the training in the world and psychological testing of officers can't make up for where an officer's mind is in that split second it takes to pull the trigger, experts say.
Howard Williams, a former San Marcos police chief and current Texas State University criminal justice lecturer, said the decision to shoot can sometimes come down to a function of officers' personal values — something difficult to test for or teach in police academy-like settings.
"The training is going to see to it that you do it properly ... but the training doesn't give you that moral compass — that value set — to say, "Do I pull the trigger or do I not?" Williams said. "And that, I think, is the biggest missing piece of the puzzle that we're dealing with right now."
For police critics, shootings are the most extreme example of what they perceive as ingrained police misconduct toward minorities that includes excessive traffic stops and lackluster pursuit of complaints against officers.
Police departments have defended their systems of accountability, and some post information about complaints on use of force, racial profiling and other concerns in an attempt to improve transparency. Others have touted the increased use of video, including body cameras, to heighten accountability for officers' actions.
"It's making officers more aware; they're being held accountable to what they're doing and what they're saying," said Gil Garza, deputy chief of internal affairs for the Dallas Police Department. "It's keeping them honest."
But without a third party reviewing such incidents, activists question the objectivity of the review process. When officers are left to investigate their peers, they ask, what effect does that have on the overall culture of a department?
As part of its efforts to evolve from protest group to player in the legislative arena, the Austin chapter of Black Lives Matter, the only affiliated chapter in Texas, is planning to push for criminal justice reforms when state lawmakers reconvene in January, including a push for mandatory investigations of police officers accused of misconduct and an independent body to investigate those allegations and police-involved fatalities.
When questionable interactions — some resulting in fatalities — go unscrutinized, activists say it stokes the racial tensions that underlie even the most simple interactions with police for people of color.
"As a black man, when I'm on the freeway — even though all my tags are good, I got insurance — when I see a cop car in my rearview, I move over. If they're beside me, I get in the other lane, and my heart rate goes up, and when they exit, I breathe a sigh of relief," said Durrel Douglas, co-founder of the Houston Justice Coalition. "And that is a sad day when that is my reality and the reality of so many people of color."
Beyond polarization
But police are also targets themselves, and allowing officers to perform dangerous jobs without fear of corrosive second-guessing will form a large part of any public policy discussion.
In the aftermath of the tragic shooting of five Dallas police officers in July, Texas Republicans, including Lt. Gov. Dan Patrick, blamed public outcries over questionable shootings for increased tension between minorities and the police. Some lawmakers went as far as saying the gunman who killed Dallas police was "encouraged" by the "rhetoric" of the Black Lives Matter movement.
But the ambush in Dallas by a lone gunman occurred after a peaceful protest against police brutality following the fatal shootings of black men in Louisiana and Minnesota — not the actions of the Dallas Police Department — and activists have found themselves repeating something that has become a sort of mantra for police: Don't rebuff our efforts based on the actions of one person.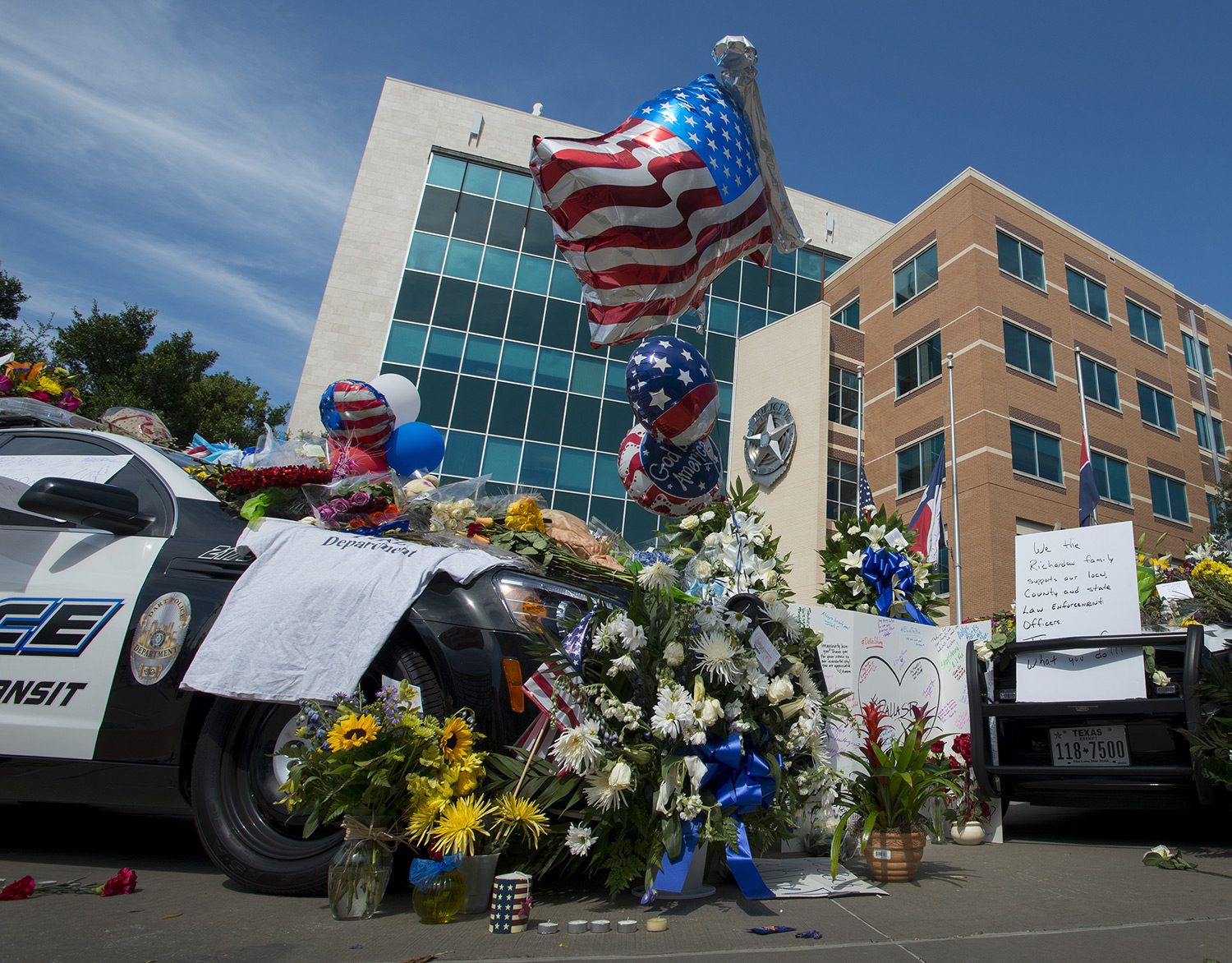 At a prayer vigil for the five slain officers, Dallas Mayor Mike Rawlings acknowledged the complicated terrain surrounding the frayed relationship between police and people of color — and the unresolved concerns of many who feel they are targeted by police.
"The question is," Rawlings said, "can we as citizens speak against the actions of a relatively few officers who blemish the reputation of their high calling and at the same time support and defend the 99 percent of officers who do their job professionally, honestly and bravely?"
If any ideological differences were hardened by the Dallas shooting, both sides at least seem to agree that people are paying more attention.
Activists say the proliferation of video footage amid a series of similar shootings has led the public to start questioning police and "consider that maybe the police aren't right all the time," said Mokuria of Mothers Against Police Brutality.
Police associations have ramped up their insistence that the public should not be too quick to indict officers before the facts surrounding a shooting have come out. But they agree that they must consider minorities' grievances.
"We need to come together and have a conversation about what needs to be done across the board," said Lawrence, the police association director. "Everybody needs to come together and accept we all share fault and we all need to be part of the solution, and we need to be able to have those conversations without me being called a fascist or a racist and without them being called hoodlums and criminals."
Feedback or tips? Send an email to unholstered@texastribune.org. To republish this story, view our guidelines and the plain text of this story.