*Correction appended
WYLIE — Eight-year-old Natalee Allen sometimes leaves handwritten notes for her father.
A recent one — scribbled in the messy handwriting of a small child — reads, "I love you so much." It's attached to a silver frame displaying a grainy picture of Michael Vincent Allen that sits on an end table in the home of Natalee's grandparents.
Randy and Stephanie Allen are raising their granddaughter now, determined to teach her that police officers aren't bad, even though one of them awaits trial for killing her father.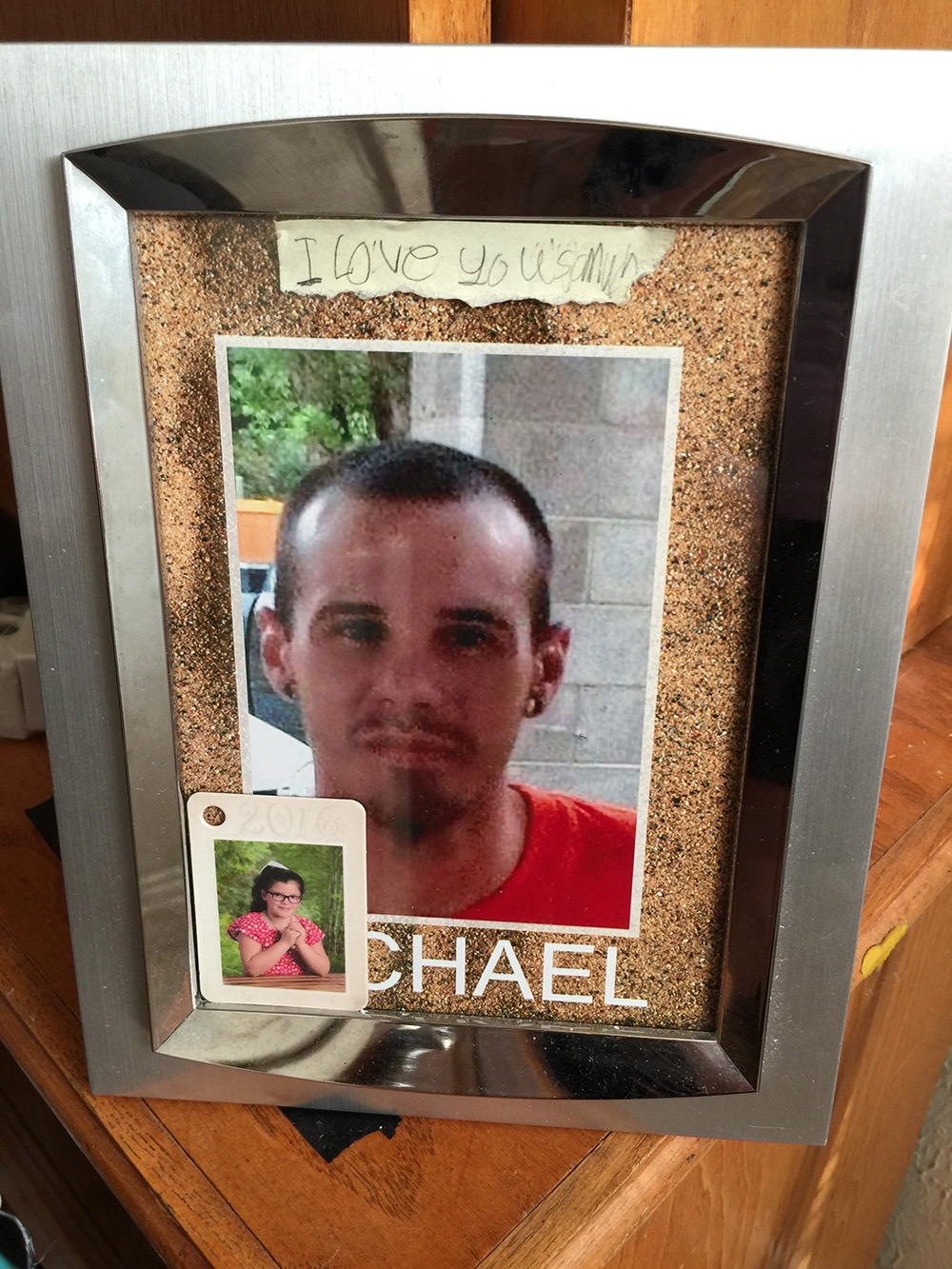 In August 2012, Michael Vincent Allen, suspected of fleeing earlier from another officer, led police on a high-speed chase through the eastern Dallas suburbs. He was unarmed, his white GMC pickup struck by a police car, when Garland police officer Patrick Tuter finished firing 41 shots at Allen.
Allen, 25, died at the scene. An internal Garland police department review found that Tuter, a seven-year police veteran, violated the department's use-of-force and pursuit policies. In 2013, he was indicted by a Dallas County grand jury on a manslaughter charge. His lawyer has previously said the officer believed Allen had a gun.
"I know there's good police in there," said Randy Allen. "I know we couldn't make it without police, but it's just a few of them everywhere that makes it seem so bad."
At least 880 officers were involved in police shootings in Texas' largest cities between 2010 and 2015, according to data compiled by The Texas Tribune. Tuter is one of seven to face criminal charges for pulling the trigger in that period. None have been convicted, so far.
The use of lethal force by police remains under intense scrutiny nationwide. Fatal police shootings in places like Missouri, Minnesota and Baton Rouge have led to protests and calls for increased police accountability. Officers became targets of gunmen in Dallas and Baton Rouge.
Amid the heightened scrutiny, the Texas numbers underscore how rare it is for police to face criminal prosecution. In the vast majority of cases, investigators and grand juries determine that officers were justified in using their weapons.
By law, police officers aren't supposed to shoot unless they believe their lives or the lives of others are in immediate danger, and that judgment is the filter through which all shootings are investigated. It takes overwhelming evidence for fellow officers, prosecutors or jurors to decide to challenge an officer's decision, even in controversial incidents where circumstances or evidence raise substantive concerns that shootings were unjustified or constituted excessive use of force.
"Cops are expected to go out and deal with the things that go on in the world that most of us would just assume don't happen, don't exist," said Kevin Lawrence, executive director of the Texas Municipal Police Association. "Especially if we're talking about a situation that's going on at 2 or 3 o'clock in the morning where the shit has already hit the fan, there may not be any good solutions for those officers. There may not be any good options. There's only the least bad option."
Of the 880 officers involved in cases examined by the Tribune, at least 10 were fired for their actions during a shooting and 14 were suspended. Another was given a written reprimand.
Additional incidents where officers faced no discipline or criminal charges have been controversial, and criminal justice experts say the numbers illustrate how extreme the circumstances must be for an officer to be charged or indicted.
"Either it won't reach a grand jury, a grand jury will decide not to press charges ... or in the rare instances that it goes to trial, more than likely they're found innocent or not guilty," said Scott Bowman, an associate criminal justice professor at Texas State University. "It has to be particularly egregious [for an officer] to be found guilty."
The most recent police shooting-related conviction officials could recall in the 36 cities the Tribune examined was in 2005, when Houston police officer Arthur Carbonneau was found guilty of criminally negligent homicide for the death of a 14-year-old special education student.
Carbonneau was sentenced to 60 days in jail and five years' probation for the 2003 shooting of Eli Escobar II, who was being held down by another officer when he was shot. Carbonneau had been dispatched to investigate an assault at an apartment complex, according to news reports. Escobar was unarmed and not involved. Carbonneau chalked up the incident to an accident, saying his gun went off accidentally when Escobar bumped his hand during a struggle.
More recently, an officer with the Conroe Police Department, which is not included in the Tribune's analysis, was convicted of manslaughter in 2014. Sgt. Jason Blackwelder, who was off duty, killed Russell Rios, an unarmed 19-year-old community college student, by shooting him in the back of the head as he fled a Wal-Mart where he was suspected of shoplifting.
Seven criminal cases
It takes a rare confluence of circumstances for a police officer to face criminal charges over a shooting. Among the seven cases found by the Tribune, two shootings were fatal, and most involved an unarmed individual:
1 Video footage appeared to be key in the case of Dallas police officer Cardan Spencer, who was indicted and fired over a nonfatal 2013 shooting. Spencer and his partner were dispatched to the home of Bobby Bennett's mother, who called for help with her mentally ill son. The officers pulled up to a cul-de-sac and advanced toward Bennett, who stood up from the rolling computer chair he was sitting in on the street. In a matter of seconds, he was falling to his knees after Spencer shot at him four times, hitting him once.
At first, Bennett was charged with aggravated assault of a public servant. Police said Spencer pulled the trigger after Bennett approached the officers with a knife in an "aggressive manner." But the charges were dropped within days after a neighbor's video surveillance showed Bennett standing still with his arms — and the knife — at his sides.
Spencer was fired 10 days after the shooting. He was indicted six months later. Since then, the city and Bennett reached a $1.6 million settlement in a civil suit. After several delays, Spencer's trial was recently set for Dec. 12. His lawyer declined to comment on the details of the case.
2 Circumstances seemed to play a bigger role in the indictment of Austin police Detective Charles Kleinert, who was charged with manslaughter for shooting and killing Larry Jackson Jr. in 2013.
Kleinert was investigating a bank robbery when he confronted Jackson, who was not involved in the robbery, after learning that Jackson allegedly used a fake name at the bank earlier in the day. Jackson fled after a few minutes of questioning. Commandeering the vehicle of a woman driving nearby, Kleinert pursued him and drew his weapon when he caught up to Jackson underneath a bridge.
The two men struggled, and Kleinert said he accidentally fired while trying to punch Jackson, fatally shooting the unarmed man in the back of the neck. Jackson's family contends he was on his hands and knees when he was shot. In charging Kleinert, a Travis County grand jury concluded that the detective behaved "recklessly."
The manslaughter charge against the Austin detective was eventually dismissed by a federal judge after his legal team argued Kleinert was entitled to immunity because he was a member of an FBI task force. Jackson's family received a $1.25 million settlement from the city. Kleinert's attorneys did not respond to a request for comment on the case.
3 Responding to a 911 call about a man with a knife in 2015, Fort Worth police officer Courtney Johnson shot Craigory Adams in the arm.
Adams dropped to one knee after being ordered to drop his "knife," which turned out to be a barbecue fork. That's when Johnson's gun went off. Johnson's lawyer has said it was an unintentional discharge.
A Tarrant County grand jury in March indicted Johnson on a charge of aggravated assault by a public servant. Johnson's next court date is set for Sept. 6 for a status conference.
4 In 2010, El Paso officer Jorge Gonzalez shot at Andres Cortez after Cortez rear-ended the off-duty officer's vehicle. Gonzalez said Cortez hit his girlfriend, a fellow officer, while fleeing. Cortez had said he was trying to get his car out of moving traffic when Gonzalez's wife began beating on the car.
Police said Cortez put his car in reverse, backed up and then put the car in driving gear with Gonzalez's girlfriend in his path. That's when Gonzalez shot.
The officer was cleared of wrongdoing by the police department but was indicted on one count of aggravated assault with a deadly weapon and one count of aggravated assault causing serious bodily injury. He continued to work for the department after his indictment until he was fired in 2014 in an unrelated case for rule violations, according to Jim Darnell, Gonzalez's attorney.
His lawyer said he acted in self-defense and in defense of his girlfriend during the 2010 shooting. Gonzalez's gunshot paralyzed Cortez from the neck down. He died more than five years later. Gonzalez has yet to stand trial. His case has been delayed several times; it was recently reset for January.
5 Responding to a carjacking call in late 2013, Dallas police officer Amy Wilburn followed a maroon car speeding through the outskirts of the city into a small condominium complex. When the driver bailed out, she rushed toward the car, which was still in motion.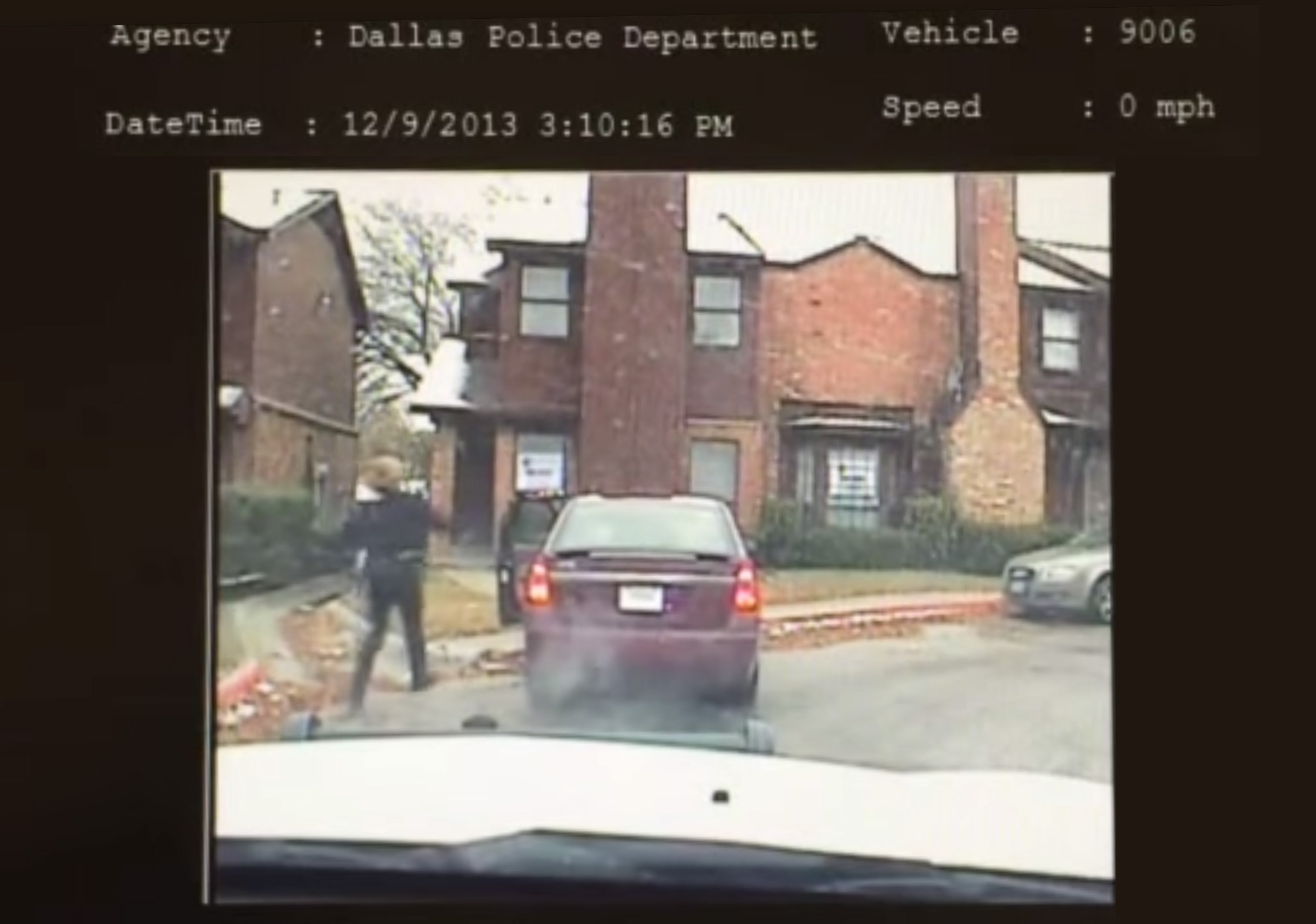 She pulled her gun and fired at 19-year-old Kelvion Walker, who was in the passenger seat. Her attorney has said Wilburn demanded to see Walker's hands, and feared he was reaching for a gun when he did not comply. Walker was unarmed and said he had his hands up. Walker said he wasn't involved in the carjacking, and was hospitalized and underwent surgery after the shooting, according to news reports.
Wilburn was indicted on an aggravated assault charge in 2014 — the first indictment of a police officer in Dallas since the early 1970s. Wilburn was terminated for violating departmental policy three weeks after the shooting, before she was indicted.
Wilburn's trial is scheduled for January. Her lawyer declined to comment on the details of the case.
6 After a four-day trial, a Harris County jury last year found former Pasadena officer Michael Martin not guilty in the 2011 shooting of an unarmed 20-year-old man, according to news reports. Martin, who was fired for his actions during the shooting, was facing a maximum of one year in jail for the class A misdemeanor of "official oppression."
Prosecutors had used two police dash cams and surveillance footage from a convenience store that showed Martin pulling Victor Hernandez over in a parking lot. Martin had said he couldn't see Hernandez's left arm and claimed he shot him in the face after thinking he was reaching for a weapon.
Prosecutors insisted the video footage showed that Hernandez's left arm was on the door with his hand on his face — at odds with Martin's accounts. Martin's attorney told the Tribune he argued at trial that the video showed Martin shooting in reaction to "apparent danger." A jury concluded there wasn't enough evidence to convict.
Hernandez took his grievances to federal court in a civil lawsuit filed in 2013. The lawsuit was dismissed in 2014.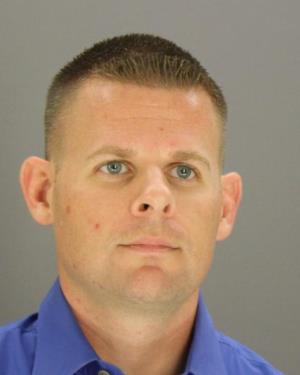 7 While on patrol in August 2012, Garland police Officer Patrick Tuter recognized Michael Vincent Allen's truck as the same vehicle that recently fled from another officer. The car chase that ensued turned deadly when it reached a cul-de-sac in Mesquite where Tuter shot at Allen 41 times, stopping twice to reload and striking him three times.
The Garland Police Department first reported that Allen's truck had collided with a Garland police car and that's when Tuter shot, fearing for the safety of the officers. In a statement released 10 days later, the department said "further investigation" revealed that Allen had not rammed into Tuter's squad car; Tuter had actually struck Allen's truck.
Tuter was terminated by Garland six months later and indicted more than a year later, accused of "recklessly" causing Allen's death. His trial was recently rescheduled for Dec. 12. Tuter's lawyer declined to comment on the case for this story.
The trials for Spencer, Wilburn and Tuter were delayed several times — partly due to a change in leadership at the Dallas County District Attorney's office after the 2014 elections. Susan Hawk recused herself from the cases when she took the helm of the DA's office, requiring the appointment of special prosecutors who had to get up to speed on the cases.
Officers have wide latitude
Officers have considerable latitude in using deadly force under a legal standard known as objective reasonableness, which was set by the U.S. Supreme Court. Police can use deadly force if they encounter a situation in which they have reasonable fear based on what a reasonable officer would conclude under the same circumstances.
"Ultimately, [a grand jury has] to decide did the officer commit a crime," said Robert Rogers, a Dallas-based defense attorney representing Spencer, Wilburn and Tuter. "You have to believe that the officer shot the person in cold blood or was unreasonable in their belief that the person presented a deadly threat." Rogers would not discuss the specific cases involving his clients.
As criminal investigations unfold, police departments also carry out in-house administrative investigations that can lead to other disciplinary actions. While most officers do not face criminal charges, a few have faced some sort of consequence, including termination, for fatal mistakes or potentially deadly actions that violated use-of-force guidelines or other internal policies.
Some officers — including Spencer and Wilburn — were terminated for violating departmental policy and publicly condemned by their chief of police before a decision was made on criminal charges.
It's a chain of events that law enforcement groups abhor. The Texas Municipal Police Association has publicly criticized police chiefs for quickly firing officers, insisting that police departments should wait for all the facts to avoid coloring criminal proceedings and grand jury investigations.
"Our position is that we should always always wait until a complete vetting of the case," said Lawrence, the association's executive director. "What we should all be saying is wait for the facts to come out and we'll go from there."
With a public that's increasingly demanding accountability and transparency, police chiefs are left to strike a balance, but they themselves can face reprimands. Earlier this year, Austin's city manager punished police Chief Art Acevedo for comments he made in the aftermath of a controversial police shooting that the police union claimed showed he prematurely judged the officer's actions.
"You're going to have certain people that line up one way or the other based on their pre-existing biases," said Rogers, the criminal defense attorney. "And then you have a lot of people in the middle."
Those are the people who can be swayed one way or the other by news coverage, the release of videos and comments made by department leadership, he added.
But for some community leaders and activists, even just a few questionable cases are enough to cast a shadow over a powerful system that's granted the power to end someone's life.
"The difference with these [Dallas] cases is that those folks lived," Sara Mokuria, co-founder of Mothers Against Police Brutality, said of the indictments in Dallas. "When people survive and there's more than just one account, there's more of a potential to actually have some form of justice."
Before Wilburn, a police officer in Dallas had not faced criminal charges since the 1973 shooting of Santos Rodriguez, a 12-year-old boy who with his brother was pulled out of bed by police over accusations that they had robbed $8 from a vending machine at a convenience store, according to news reports.
The boys denied it, leading to a game of Russian roulette during which Dallas police officer Darrell Cain shot and killed Rodriguez while he was handcuffed inside a squad car.
Cain was indicted and later convicted of murder. He was sentenced to five years in prison but was released after two-and-a-half years.
Even in the few cases in which officers are brought up on criminal charges, prosecutors face a daunting task in winning a conviction — or even getting to court. Prosecutions of officers rarely result in lengthy jail time or even convictions. Only five of the seven officers the Tribune identified still face criminal charges.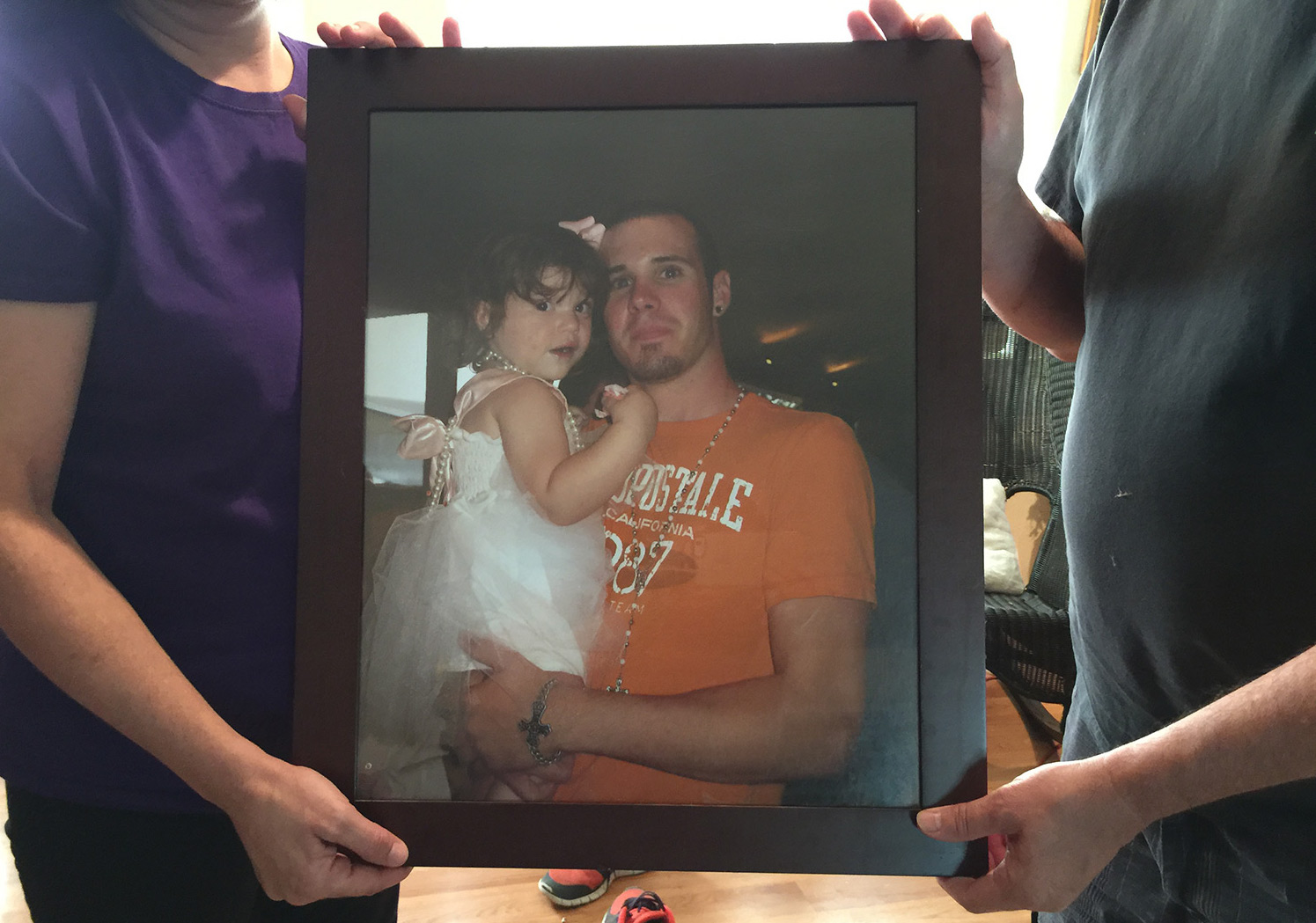 "We know he did wrong."
Tuter's trial is a day that couldn't come soon enough for the Allens, who are planning to testify. When they speak about their son's shooting and the toll it's taken on their family, it's clear that the Allens are desperate.
They are desperate for answers, questioning why Tuter shot at Michael so many times. They are desperate for justice, holding on to hope that Tuter could be convicted, though they were surprised he was even indicted. And they are desperate for closure, while accepting their grasp on it may be tenuous because their son will remain gone.
"We know he did wrong, but he shouldn't have got the death sentence," said Stephanie Allen, Michael's mother. "He should've went through the court system just like everybody else."
Her sunken eyes drift off regularly when speaking of Michael's death, and she often ends her statements with a slight shake of her head — disappointment and grief still evident in her words almost four years after the shooting.
"I think [Tuter] did wrong, and I hope he pays for it," she says of upcoming trial. "I want him to never forget Michael. Because I won't."
Correction: A previous version of this story incorrectly stated that 881 officers were involved in police shootings. It was 880 officers.
Feedback or tips? Send an email to unholstered@texastribune.org. To republish this story, view our guidelines and the plain text of this story.