During early voting in Texas, people — of registered voters — voted in person and by mail, surpassing the total number of votes cast in 2016. In 2016, 8,969,226 Texans cast a ballot in the general election, and Texas has added 1.8 million registered voters since then. Turnout on Election Day brought this year's overall percentage turnout to 66%, surpassing 2016's turnout of 59.4%.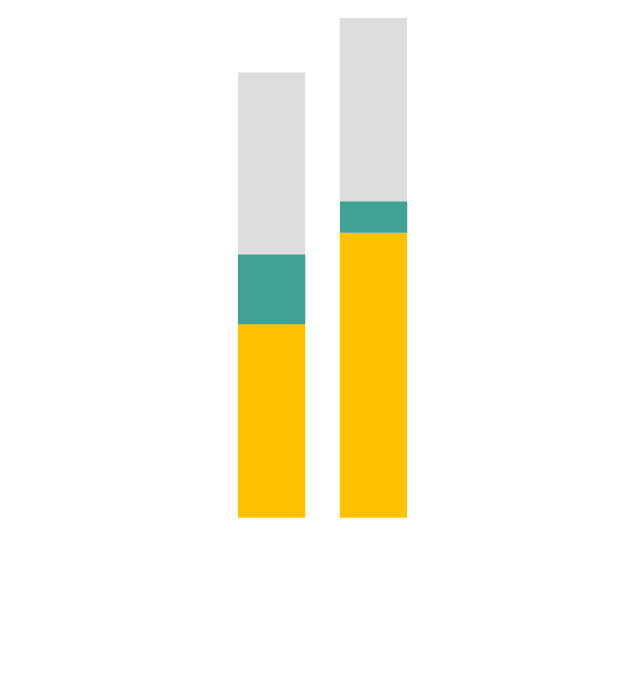 2020
16.9 million
registered voters
2016
15.1 million
registered voters
66% turnout,
11.2 million votes
A record number of Texans voted early, and 13% of votes were cast on Election Day.
59.4% turnout,
8.9 million votes
One-quarter voted on Election Day and three-quarters
voted early.
Note: Early voting lasted for three weeks in 2020 due to the pandemic. In 2016, early voting was two weeks.
Source: Texas secretary of state
Credit: Mandi Cai and Darla Cameron, The Texas Tribune
The Texas Tribune updated this tracker daily through the early voting period, which ran from Oct. 13 to Oct. 30, as Texans went to the polls to choose their candidates for the 2020 general election. Data is provisional and subject to change as counties finalize numbers.
Due to the pandemic, this election's early voting period was extended by a week, and officials are expecting a surge in early votes by mail. Both factors could contribute to higher turnout for early voting. These totals include mail-in ballots received before the start of the early voting period.
Below, you can find out how many people voted in a particular county. This is the first presidential election during which the Texas secretary of state will report daily early voting turnout in each of the state's 254 counties. In previous elections, the secretary of state only published total turnout for all counties at the end of early voting.
Turnout in the 10 counties with the most registered voters
In the 10 counties with the most registered voters, people, or of registered voters, have voted early. According to the latest figures reported by the secretary of state before the 2020 general election, 57.3% of registered voters live in these 10 counties.
Politically, the 10 largest counties don't represent Texas' other 244 smaller counties. In 2016, Democratic presidential candidate Hillary Clinton won the large counties by about 620,000 votes. President Donald Trump netted 1.4 million votes in the other counties and won the state. The large counties moved further to the left in the latest statewide race, when U.S. Senate candidate Beto O'Rourke won the large counties by 930,000 votes. But that couldn't offset Sen. Ted Cruz' 1.1 million vote advantage in the other counties.
About the data
Preliminary 2020 early voting data comes from the Texas secretary of state. When data for the 10 largest counties is not sent to the state, numbers are from the county elections office, if available. Early voting turnout for 2016 and 2012 and registered voter numbers are also from the secretary of state.
Disclosure: The Texas secretary of state has been a financial supporter of The Texas Tribune, a nonprofit, nonpartisan news organization that is funded in part by donations from members, foundations and corporate sponsors. Financial supporters play no role in the Tribune's journalism. Find a complete list of them here.
Alex Samuels and Darla Cameron contributed to this report. Illustrations by Emily Albracht.