Lloyd Snyder
Nurse Lloyd Snyder never saw the punch coming.
One minute he was dealing with an angry, unruly psychiatric patient at the downtown Houston hospital where he worked. The next minute he was up against the wall.
In agonizing pain, Snyder went to the emergency room at the hospital, St. Joseph, on Oct. 9, 2002.
After a round of neurological tests in November, Snyder was referred to an orthopedic surgeon, Dr. Stephen Esses, to examine the damage to his neck and spine.
St. Joseph covered its employees through the state workers' compensation system, so Snyder filed a claim. In December of 2002, Esses recommended surgery to repair the damage, but the claims handler for the hospital said that was "not medically necessary."
Snyder fought the denials through the Workers' Compensation Division, but his case dragged on for months.
In April 2004, almost a year and a half after his accident, the hospital's claims handlers approved neck surgery for Snyder. He woke up from the surgery to bad news from his doctor.
"He said, 'I'm sorry to have to tell you this, but I couldn't fix it. They waited too long to approve the surgery, and your damage to your neck is going to be permanent,'" Snyder recalled. "He said, 'You're going to be on pain medication from now on.'"
Snyder filed a lawsuit and settled with Christus Health, the owner of the hospital, for an undisclosed sum. Neither side admitted fault in the settlement. A jury awarded him another $4 million in a suit against the claims handlers in 2006, records show, but that verdict was overturned on appeal in 2009, on the grounds that Snyder hadn't properly fought the first refusal of his surgery.
Snyder, 70, said he lives with constant pain, daily nerve spasms and insomnia. He and his wife, Florence, had big plans for retirement, but those are shelved.
"It's ruined our lives, hers and mine," he said. "They can have all their money back if I had just been fixed."
Disclosure: Christus Health is a corporate sponsor of The Texas Tribune. A complete list of Texas Tribune donors and sponsors can be viewed here.
---
Glenn Johnson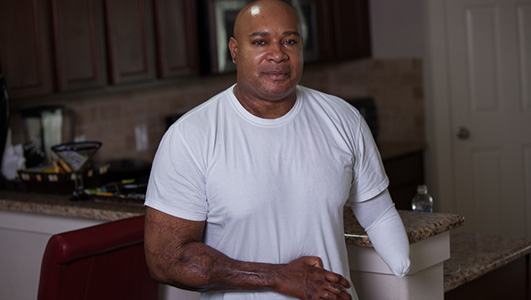 Doctors told Glenn Johnson that he was supposed to die 16 years ago.
On Aug. 24, 1998, Johnson opened a furnace door at an Amarillo-area smelting plant where he worked. The furnace hadn't been properly cleaned out, and the chemical residue inside caused an explosion so powerful it knocked him off of his forklift.
Hot metal seared his flesh, causing second- and third-degree burns on his face, neck, upper body, legs and arms. One of his arms was amputated, the other badly mangled. He endured surgery after surgery. The accident also caused arteries in his lungs to clot, and eventually led to chronic kidney failure.
Johnson, 55, whose company carried workers' compensation insurance, would find out in the years to come that the fight for his health would not be the only battle he would face.
He spent two years at HealthSouth Rehabilitation Institute of San Antonio, learning to function with his badly damaged upper body. He was discharged in 2000 and diagnosed with 11 conditions, including post-traumatic stress disorder and major depression.
"Both of these diagnoses will probably last a lifetime," one of his doctors wrote. His treating doctor gave him an impairment rating of 91 percent — almost fully disabled.
Claims adjusters with Old Republic Insurance Company, his workers' compensation insurance provider, didn't dispute the impairment rating. There were items, though, that they wouldn't cover, such as travel expenses and a burn suit. Hiring its own doctors to review Johnson's medical records, the insurance company denied his claims for around-the-clock attendant care, psychiatric services and prosthetic gear, according to a lawsuit Johnson filed against the company.
Old Republic and its attorneys did not respond to several requests for comment.
In May 2004, police arrived at Johnson's house in rural Childress. They arrested him and his wife, Natalie Johnson.
Adjustors retained by Old Republic had hired an investigator to gather information on the Johnsons for potential insurance fraud. The adjusters filed a criminal complaint accusing the Johnsons of falsifying travel expenses for his doctor-approved workouts at a Gold's Gym in Amarillo — a two-hour drive from Childress.
The complaint alleged that Johnson wasn't actually using the facility, because electronic records indicated he had not been using a swipe card to enter the gym. Based on that evidence, a grand jury indicted the Johnsons.
Johnson explained that the injuries to his remaining hand prevented him from removing the swipe card from his wallet. Gym employees had opened the door for him, he said.
The charges were dropped after employees signed affidavits attesting to Johnson's attendance, but the legal woes weren't over.
Johnson has sued Old Republic and its adjusters for $31.5 million, alleging they acted in bad faith by continuing to deny his claims.
"The insurance company should be punished," he said. "And I thought if I hit them in the pocket, they could finally go away."
In legal documents, Old Republic says Johnson has no right to pursue a bad faith case; the company argues Texas Supreme Court rulings have essentially eliminated that avenue for injured workers.
---
Javier Bautista
As an undocumented day laborer, Javier Bautista generally goes where there are jobs. So he didn't hesitate in the summer of 2012 when a friend told him about a job making $200 a day on a residential construction site in Houston.
On his first day, Bautista, 38, stepped on a nail while preparing a room for painting. A few days later, he was in terrible pain. His toes were badly infected.
Bautista said given his condition, the contractor did not want him to work any longer. Bautista recalled the contractor telling his friend, "He can't do anything anymore, take him home."
When he returned home to Austin, Bautista went to Brackenridge Hospital, where doctors eventually amputated all five toes on his left foot. He said he couldn't pay the $30,000 hospital bill and was told it was written off as charity care.
Bautista said the contractor he worked for offered no benefits or workers' compensation insurance and never paid him the $600 or so for the painting job. Now, he can't work as efficiently, and he barely makes ends meet.
"It's sad, but they treated us like we had no value," Bautista said. "They treated us like roaches and then just threw us away."
---
Ricky Lopez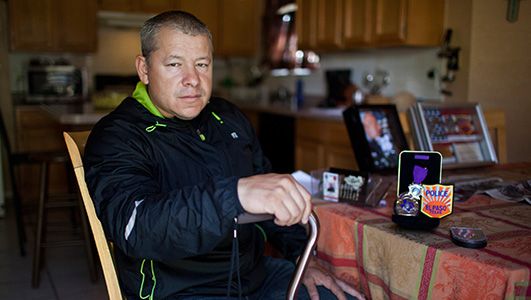 On Oct. 13, 2010, El Paso police Officer Ricky Lopez and his partner were en route to a call when a drunken driver slammed into their cruiser. The accident killed Lopez's partner and left the now-45-year-old father of four with injuries to his brain, arm, eye, pelvis and back. Almost four years later, he's still in so much pain that he can't get behind the wheel. Working is out of the question.
After years of medical treatment, the workers' compensation insurance provider that paid for his care suddenly stopped, Lopez said. Now, the former police officer is waging a battle with the company, Claims Administrative Services, which contends his maladies were pre-existing conditions, according to Lopez.
Claims Administrative Services did not respond to multiple requests to comment for this story.
One of Lopez's doctors, Dr. Quazi Haque, has diagnosed him with chronic pain exacerbated by post-traumatic stress and depression.
"I have a hard time focusing," Lopez said. "My memory is not the same, and when I speak, it's like the words start slipping."
Lopez's wife said her husband has been a different man since the accident.
"It's been very hard adapting to the new Ricky. When he's in pain, he doesn't even want us to talk to him, or touch him," Rosa Lopez said.
For two years after the accident, Claims Administrative Services paid all of Ricky Lopez's medical bills. In 2012, though he had already seen more than a dozen doctors, the company ordered him to have one more examination.
Ricky Lopez said the visit with the state-designated workers' compensation doctor, Dr. Andrew Brylowski, lasted less than an hour. Brylowski determined that Ricky no longer needed eight out of his nine current medications, according to the medical record. Brylowski diagnosed Lopez with a "pre-existing bipolar disorder or possible alcohol issues."
The doctor's conclusions shocked the Lopezes.
"Ricky wasn't even allowed to drink. He was on narcotics," Rosa Lopez said.
Based on the doctor's report, the insurance company began denying Lopez's claims for coverage soon after.
Eventually, after Rosa Lopez lost her job, Medicare began covering most of her husband's hospital bills. While the insurer has continued to pay Ricky Lopez supplemental income benefits, the company has declined to reimburse him for medical bills incurred after the most recent doctor's report, he said.
With the help of an attorney, the Lopezes are challenging the insurer's denial at the Texas Workers' Compensation Division, a process Rosa Lopez called "very stressful and very confusing."
---
Angel Hurtado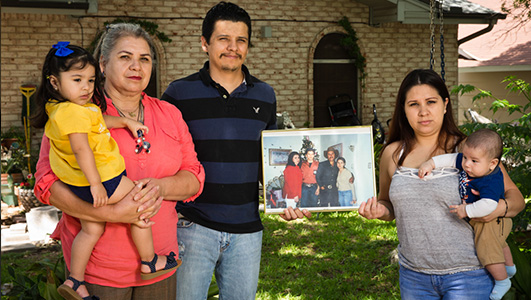 Victorina Hurtado was drenched in her husband's blood when police found her on the side of the road 10 years ago.
That day, July 11, 2004, she said, was "the ugliest day" of her life.
Hurtado and her husband, Angel, a 44-year-old undocumented immigrant from Cuernavaca, Mexico, had let themselves into a construction site in west Austin that morning. Following directions from a contractor they knew only as "Mike," they worked, unsupervised, to build a roof for a warehouse. Nearly a decade after his death, the family has been unable to find the contractor they think was responsible for the accident, and the federal agency responsible for overseeing worksite safety has no record of the tragedy that wrecked their lives.
As they worked that day, Angel Hurtado, perched atop the building's 21-foot frame, went suddenly silent. When his wife found him on the ground minutes later, she thought it was one of the jokes they often played on each other.
"I said, 'You're playing, please talk to me,'" recalled Victorina Hurtado, 54. When she put her hands on her husband's chest, blood poured out of his ears, nose and mouth.
He was dead by the time the Travis County sheriff's deputies arrived.
Angel Hurtado's son, Christian, 31, said seven lawyers turned the family down when they sought help to sue "Mike," the contractor, who disappeared after the accident. Christian Hurtado said he was forced to give up his college savings to help the family make ends meet.
On the day of the accident, Christian Hurtado went to the scene, where an inspector from the Occupational Safety and Health Administration asked him about his father's work. They wanted to know why he was working on a Sunday and why he wasn't wearing protective gear.
OSHA ultimately determined that it had no jurisdiction in the case. Angel Hurtado wasn't on an employer's payroll, which meant under federal law he was considered self-employed, said Casey Perkins, an area director for the agency.
Now, a decade after Angel Hurtado's death, any record of that case has been destroyed, Perkins added.
The family is unable to confirm whether Hurtado's death even made the government's official tally of worker fatalities, because the Bureau of Labor Statistics, which compiles those numbers, operates under a "pledge of confidentiality."
When the Hurtados visited the site of Angel Hurtado's death to leave a memorial cross for him, they were told to leave because it was private property.
"Whenever we try to look for answers, we can't find out anything," said Karla Hurtado, 25, Angel Hurtado's daughter. "It's like, let's just say nothing happened, let's just keep working."
---
Peggy Brooks
Nurse Peggy Brooks says she never missed a day of work at Vantage Hospice in Houston.
In every category on her November 2012 performance review, she met or exceeded expectations: "Peggy is a professional, reliable member of the Vantage team," her supervisor wrote. "Keep up the good work Peggy!"
Everything changed when she filed a workers' compensation claim, she said.
On March 16, 2013, Brooks, 53, was driving to visit a patient when she was rear-ended in a pileup caused by a hit-and-run driver near downtown Houston. She was rushed to Ben Taub Hospital in an ambulance with neck and back injuries.
Vantage Hospice, which declined to comment for this story, carried workers' compensation insurance, and the company's carrier told her which clinic to visit after the accident. Health workers there imposed restrictions because of her injuries, so Brooks was unable to resume her full duties, which involved moving and lifting patients during three-day shifts that began Friday and ended on Monday morning.
She accepted a "light duty" assignment doing paperwork and answering phones. Then, on April 5, 2013, she said her supervisors told her she could resume her normal duties — even though the workers' compensation clinic had told her earlier that day that she should remain on light duty until further notice.
That evening, she was called to a meeting at Vantage, she said, and told she had violated a series of company policies, including failure to complete her hospice case paperwork on the day that she was rushed to the hospital. After the meeting, she told her boss she was not physically able to resume her routine duties, and that she felt sick and needed to go home.
Four days later — three weeks after her injury — she was fired for allegedly failing to report to work. She said she had properly notified her employer that she was absent due to illness.
Brooks later filed a wrongful termination lawsuit under anti-retaliatory provisions of the workers' compensation law. Vantage Hospice denied the allegations in court papers. This year, Vantage paid an undisclosed amount in a confidential settlement and the suit was dismissed.
Brooks soon found a new nursing job, but her woes didn't end.
She kept getting medical bills, even though it's generally considered an administrative violation for medical providers to charge employees for expenses covered under workers' comp. She sent the bills to the insurer, Texas Mutual, but she never received a response, she said.
After The Texas Tribune made inquiries last month, Texas Mutual got in touch with the health care providers. Harris Health, formerly the local hospital district, resubmitted the hospital bill on June 2 and the insurer is processing it, said Texas Mutual general counsel Mary Nichols.
Brooks said she feels let down by a system that seems to protect everyone but the workers.
"There doesn't appear to be a check and balance," she said. "It's very one-sided."
Disclosure: Texas Mutual Insurance Company is a corporate sponsor of The Texas Tribune. A complete list of Texas Tribune donors and sponsors can be viewed here.
---
Ronnie Bishop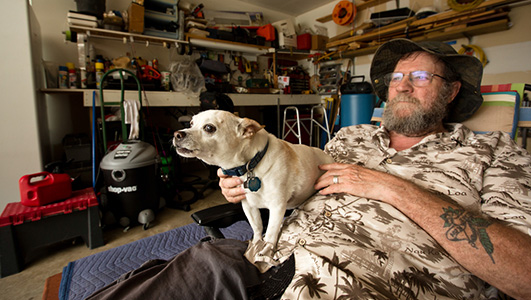 Four years after the van he was working on exploded in flames and left him with second-degree burns over much of his body, Air Force veteran Ronnie Bishop, 62, has given up on the fish tanks and woodworking tools that used to fill his spare time.
The damage the flames did to his hands made the once-fulfilling hobbies just another painful reminder of that awful day — and of his ongoing battle to get the insurance benefits he believes he is due.
In October 2010, Bishop's boss at Davey Plumbing in Buda asked him to revive an old van. As he poured gasoline through a funnel into the injection system, the engine ignited and flames consumed his body.
He was hospitalized for two weeks, and part of his left ear had to be reconstructed.
For nearly three years, Bishop underwent laser treatment for his injuries. He says he is still in pain and cannot be in the sun without virtually every inch of his skin covered. He now works a nighttime job, which makes caring for his wife, who is also disabled, even more challenging, he says.
Fortunately for Bishop, the company he worked for carried workers' compensation insurance. Two years after the accident, the state Workers' Compensation Division assigned a designated doctor to rate the extent of Bishop's injuries. The findings, based on a rate of impairment, would determine how much longer he would receive benefits.
Citing the injuries to his hands, the state-appointed doctor assigned him an impairment rating of 42 percent. As usually happens, the workers' compensation insurance company — Service Lloyds Insurance Co. — hired its own doctor to evaluate Bishop. That doctor assigned Bishop's injuries a 6 percent impairment rate. The insurer's doctor wrote that Bishop had "no limitation in performing activities of daily living," that he didn't need to be protected from sunlight and that he required minimal treatment.
To arbitrate the dispute, the state Workers' Compensation Division assigned yet another doctor to examine Bishop. This time, Bishop was given a 27 percent impairment rating.
In May 2013, a workers' comp division hearing officer ruled in favor of the insurance company, rating Bishop's disability at 6 percent. Months later, an appeals panel at the agency agreed.
"Then that was all over and they released me back to work," Bishop said.
Timothy White, an attorney for Service Lloyds, said the workers' compensation process is a fair one.
"In Mr. Bishop's case, the hearing officer just happened to side with the insurance carrier," White said.
"Injured workers and your constituents are being denied their rights, even if the evidence favors them," he wrote.
---
Resources
If you or a loved one has experienced a worksite tragedy, please share your story with us. Contact us at tribinvestigates@texastribune.org.
WORKPLACE DANGERS
To report a hazardous job site or unsafe conditions at work, or to make a complaint about potential violations of federal safety standards, call the Occupational Health and Safety Administration at 1-800-321-OSHA (6742), or visit OSHA online.
OSHA OFFICES
Find the OSHA office nearest you.
TEXAS SAFETY VIOLATIONS
To report unsafe conditions to the Texas safety hotline, call 1-800-452-9595, or report it online.
WHO COVERS YOU
Find out if you're covered by Texas workers' compensation or if your employer has notified the state of its decision to opt out of the state-regulated system.
WHAT WORKERS' COMPENSATION COVERS
Get basic information about the Texas workers' compensation system.
FIND FIELD OFFICES
To contact your local Workers' Compensation Division field office, call the Injured Employee Hotline at 1-800-252-7031 or visit online.
GET FREE HELP
To get help with your Workers' Compensation claim from the Office Of Injured Employee Counsel, call 1-866-393-6432, or visit online.
NEWS LINKS
Keep Workers' Comp Voluntary, Abbott Says, The Texas Tribune
Texas Worker Safety Hotline Falters, The Texas Tribune
Texas Workers' Comp Commissioner Resigns, The Texas Tribune
Worker's Benefits Cut Off Two Decades Later, The Texas Tribune
A Half-Million in Texas Without Workplace Insurance, The Texas Tribune
Group Health Plans Pay for 'Zero-Cost' Workers' Compensation Claims: Study, Insurance Journal
A Maze of Pain, Fort Worth Weekly
As workplace deaths fall nationally, they remain stubbornly high in Texas, The Dallas Morning News
Insult to Injury: Texas Workers' Comp System Denies, Delays Medical Help, ABA Journal
TribBlog: Workers' Comp Chief Blasts Whistleblower, The Texas Tribune