In the sweltering heat Monday, hundreds of mourners, survivors and University of Texas at Austin students gathered in the shadow of the UT Tower to honor the 16 people killed and dozens wounded during Charles Whitman's shooting rampage exactly 50 years earlier.
But no one mentioned Whitman's name during the somber ceremony. And no one mentioned the coincidence that a state law was going into effect Monday allowing students, staff and visitors to bring their guns into public college campus buildings throughout Texas.
The event was the biggest sanctioned university remembrance since the shooting, which was a source of pain and shame for the school for many decades. But on Monday, university officials and survivors vowed to honor the people killed and the thousands of others affected by the shooting. The university unveiled a new granite memorial, which lists the name of those who died.
"The new memorial and today's remembrance is long, long overdue," said UT- Austin President Greg Fenves.
"There will never be relief from the pain, and the scars you live with also scarred this great university," he added.
The ceremony began in the school's south mall, where the first people were shot by Whitman from the tower's observation deck. Two trumpets played and a military color guard lowered the Texas and American flags to half-staff. Those flagpoles had been used to shield people on campus on Aug. 1, 1966, when the sniper, Whitman, was shooting.
The tower clock stopped at 11:48 a.m., the exact time the shooting started, and wasn't scheduled to start again for 24 hours. A bagpiper lead the crowd of people to a small pond north of the tower, where the new memorial sits.
Many victims and heroes from that day were in attendance, sitting in reserved chairs under a white tent. Ramiro Martinez, one of the Austin police officers who shot and killed Whitman that day, sat near the front and received a standing ovation. So did Claire Wilson James, who was shot when she was pregnant. In addition to losing her baby, her boyfriend was murdered next to her that day.
James then took the podium for a short speech, which focused on the lessons she hopes people learned from the shooting.
"I ask you to join me in taking a vow," she said, "to treasure the ones we walk with each moment.
"The violence that seized the campus began in the heart of one. Let this memorial remain — here in this campus and in our minds — as a reminder of the power we have at each moment to become a community of love, of reverence for life," she said.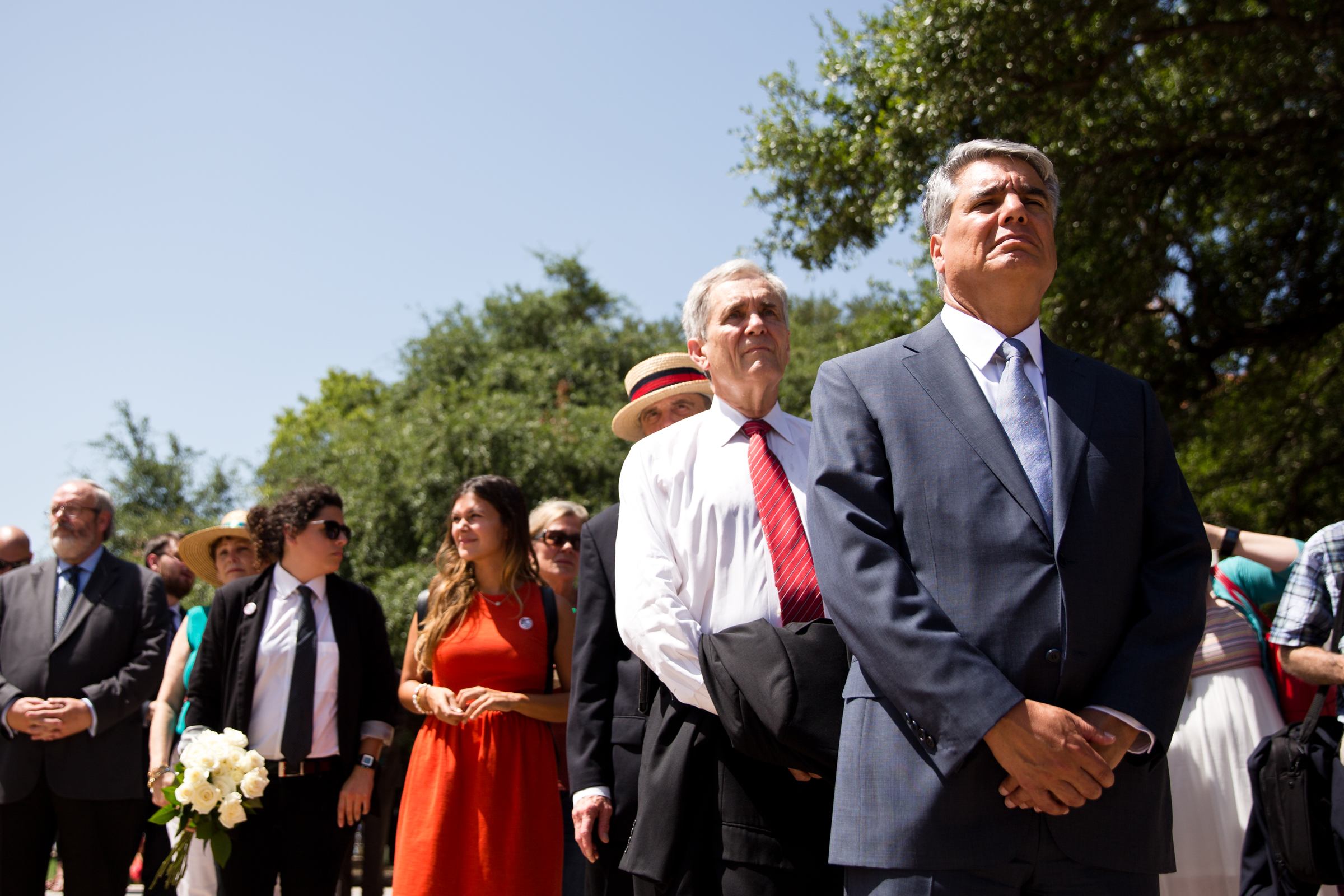 Then, the student body presidents from 1966 and 2016 alternated reading the names of each person killed. After each name, the bell at the top of the tower tolled.
The law that went into effect Monday allows people who have concealed handgun licenses — generally only people who are over 21 — to carry guns into university buildings. But guns still won't be allowed in sports arenas or certain research labs. Nearly every private school in Texas has decided to opt out of the law.
One speaker on Monday, U.S. Rep. Lloyd Doggett, D-Austin, reminded attendees of the rash of gun violence in America. In 1966, the term "mass shooting" didn't really exist, he said.
"This campus attack was unprecedented," he said. "I think it was as unexpected for us and our community and police department as if some flying saucer had landed atop the tower."
Now, he lamented, school shootings are frequent. But that doesn't make them any less terrible, he said.
"Let us resolve to never become callous to the loss we experienced here, or those [other] losses, and work together to prevent such wanton violence," Doggett said.
Disclosure: The University of Texas at Austin is a corporate sponsor of The Texas Tribune. A complete list of Tribune donors and sponsors can be viewed here.
To republish this story for free, click here or email editors@texastribune.org.
The Texas Tribune encourages a diverse and constructive dialogue on the issues we cover. That's why we're experimenting with a new discussion tool called Civil Comments, which allows our readers to help maintain the quality of our comments through peer review. To post a comment in this discussion, you'll also be asked to rate another Tribune reader's comment. The process is quick, and you can log in with Twitter, Facebook or email. Thanks for experimenting with us, and we look forward to hearing what you think. Send us your thoughts at feedback@texastribune.org. .