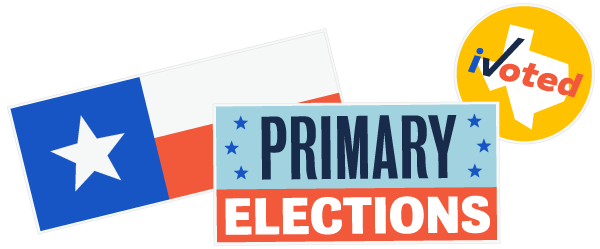 Texas primary 2020 results: Watch live updates here
Welcome to The Texas Tribune, a nonprofit and nonpartisan news organization dedicated to helping you navigate Texas policy and politics — including the 2020 elections. We're tracking Texas 2020 election results, from the top of the ballot to the bottom. Texas held its 2020 primary elections March 3, when it was one of 14 states to participate in Super Tuesday. Want to stay informed beyond election day? Sign up for our weekly newsletter to receive must-read coverage of the people and policies shaping the future of Texas.
If no candidate in a primary election receives a majority of the vote, the top two vote-getters go head-to-head in a runoff in May.
Find results for where you live
If you share your address below, we'll personalize the results for you by showing the races you got to vote in.
Texas was a big prize for Democratic presidential candidates in 2020. That's because the state has a huge number of delegates that are rewarded on primary night — 228 — and it awards most of them proportionally, meaning more than one candidate could secure some of them. Joe Biden won the primary in a stunning turnaround, but the delegates have yet to be allocated.
The eventual Democratic nominee will face Republican President Donald Trump in the November general election.
Republican President Donald Trump was elected in 2016, and Texas Republican primary voters helped nominate him for a second term. All of Texas' 155 Republican delegates go to the winner of the primary election. Looking to November, Trump maintained a slight lead over each of the top Democrats in the race, according to the latest University of Texas/Texas Tribune Poll.
MJ Hegar led the crowded Democratic primary for U.S. Senate in unofficial returns Tuesday night, though it remained unclear whom she would face in a May runoff. The winner will then face Republican U.S. Sen. John Cornyn in the general election.
Most of these candidates had never been on a statewide ballot in Texas. To help voters make sense of the race, the Tribune asked the top candidates a series of simple questions designed to highlight their political and policy-based differences.
U.S. Sen. John Cornyn has held this seat since his 2002 election, and he has become one of the chamber's most powerful Republicans. He cruised to an easy victory in the primary. Cornyn has never lost an election, and he's trying to convince Texas Republicans that his streak is in jeopardy in 2020. As of January, he had raised $12 million for his reelection bid, far outpacing his Democratic rivals.
U.S. House
There were competitive races up and down the ballot in the U.S. House in 2020. Democrats could mount serious challenges in as many as seven GOP-held districts in November. Republicans are hoping to retake two seats flipped by Democrats in 2018. But first there were competitive primaries — Kay Granger claimed victory in her race, while Henry Cuellar was locked in a showdown.
Texas sends 36 representatives to the U.S. House, the second most of any state. Each representative serves a two-year term.
Railroad Commissioner
The Texas Railroad Commission regulates the state's booming oil and gas industry, making it a hugely important elected board. Past efforts to give the 127-year-old agency a more relevant moniker have failed, even though it hasn't had total oversight of railroads for decades. Members of the three-person board are elected statewide. One seat was up for election in 2020, and incumbent Ryan Sitton conceded the Republican primary in surprising upset.
State Board of Education
There are 15 districts within the State Board of Education. Ten are held by Republicans, and five are held by Democrats. Four Republicans are not running for reelection, meaning a shake-up on the board is certain no matter which party prevails in each of the eight seats up for election.
Rob Morrow, who has called President Donald Trump a "child rapist," is headed to a runoff in the race for a position that would help decide what millions of Texas public school children are taught.
Texas Supreme Court
The Texas Supreme Court, which is the state's highest civil court, has nine justices. Four positions are up for election this year. Judges run for office as partisans, and no Democrat has been elected to the court since 1994.
Texas Court of Criminal Appeals
The Texas Court of Criminal Appeals is the state's highest criminal court. The court has nine justices, and three positions are on this year's ballot. Judges run for office as partisans, and no Democrat has been elected to the court since 1994.
Texas Senate
There were only a few competitive races in the Texas Senate in 2020, but the ones that are in play are hugely important. In the primary, state Sen. Eddie Lucio Jr., the Democrat who most often crosses party lines in the Senate, may face a runoff election. In the general election, Democrats will try to unseat Republican Sen. Pete Flores and eliminate the supermajority that allows Republicans to bring a bill to the floor without Democratic support. The senators elected this year will serve two-year terms.
Texas House
The race for the Texas House might be the state's marquee political contest in 2020. Democrats have a chance to gain control of the chamber for the first time since 2001. But there were fewer intraparty fights among Republicans than usual. There are 150 members of the Texas House. Each is elected to a two-year term. Here's what the outcomes of these primaries mean.