The geyser of toxic, highly flammable chemicals accidentally unloosed at the BP refinery in Texas City on March 23, 2005, would later be estimated at 7,600 gallons. All it took was a spark from a passing truck to trigger one of the worst oil refinery tragedies in U.S. history.
A chain of explosions obliterated nearby office trailers, killing 15 people inside. About 180 others were burned, maimed or otherwise injured.
Working in the largest trailer, David Leining heard a weird sort of banging and went to look out the door. An explosion pushed him to the ground. A fireball swept over the building as Leining lay trapped under a pile of rubble and an unconscious co-worker. Able to move the fingers of his left hand, he tapped his communicator to issue a distress signal. "I'm still here," he said into his radio.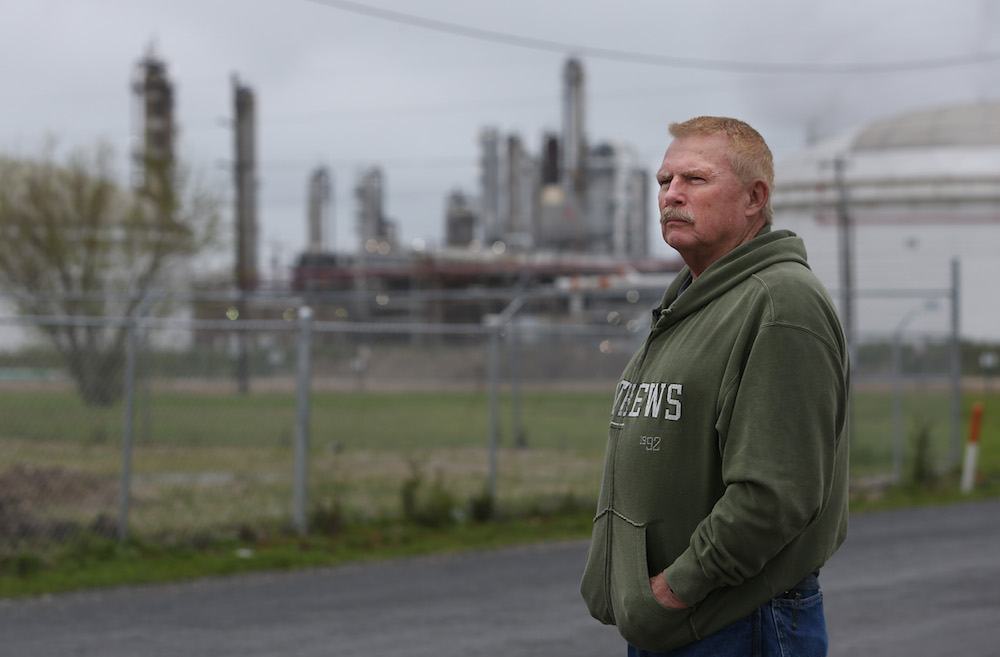 Mayra Beltran, © Houston Chronicle
Safety is often purchased through death and injury. For years afterward, the Texas City explosion was scrutinized, producing volumes of findings and recommendations on how best to prevent more men and women from dying in oil refineries.
But 10 years later, there is little evidence that the 15 lives lost on that March day bought much of anything: The death toll at U.S. refineries has barely slowed, evidence assembled in a joint Texas Tribune/Houston Chronicle investigation shows.
At least 64 energy company employees and contractors were killed in the decade before the 2005 Texas City blast. At least 58 have died in the 10 years since, according to data compiled from newspaper archives, Occupational Safety and Health Administration records, lawsuits and union reports.
The Department of Energy has tracked nearly 350 fires at refineries in the last eight years — almost one every week. Refinery workers have gone on strike demanding, among other issues, an increased emphasis on safety.
And in what some see as the insult added to injury, last year temporary tents and trailers were again erected at the Texas City plant close by the unit that leaked in 2005, on the very ground where people died.
In an inherently dangerous industry where money and time can sometimes trump safety, the blood lessons of Texas City have not fully taken hold.
"Vulnerable to Catastrophe"
All 15 contractors killed that warm afternoon were working with Leining and other BP employees in or near the group of office trailers that BP had placed on refinery grounds to house workers during a turnaround — industry lingo for shutdowns, maintenance and startups — the most dangerous time at a refinery.
Most had just returned from a safety lunch elsewhere at the refinery. Without warning, operators tried to restart a nearby unit that boosts the octane of gasoline. A stream of flammable liquids shot from an obsolete vent stack, triggering a series of massive explosions that ripped apart the refinery's 1,200 acres and shook nearby homes.
In its two-year investigation, the U.S. Chemical Safety and Hazard Investigation Board (CSB), an independent government watchdog, traced the disaster's beginnings to decisions made long before the orange-red flames towered above the neighborhoods of Texas City.
In its investigation of the accident, CSB created this animation depicting what went wrong that caused the explosion in Texas City.
"Simply targeting the mistakes of BP's operators and supervisors misses the underlying and significant cultural, human factors, and organizational causes of the disaster," said the introduction of the 2007 final report.
Years of cost-cutting, poor worker training and a safety culture with "serious deficiencies" left the plant "vulnerable to catastrophe," but company leaders ignored the warning signs, the report concluded.
The board, and experts involved in a slew of other studies, aimed their recommendations at BP and the industry at large. They wanted refineries to stop putting people in harm's way unnecessarily, specifically by keeping occupied trailers and temporary tents or buildings away from dangerous areas.
They said plants needed to upgrade or replace outdated technology, like the stacks that overflowed. They also recommended developing ways to identify "leading and lagging indicators" of industry safety. And the CSB urged companies to start getting workers more involved in safety panels to identify small problems before they turned catastrophic.
Taken together, the recommendations were supposed to save lives.
Tragedies Continue
In the decade since the Texas City disaster, the problems that triggered it continue to pop up in probes of subsequent accidents, said Daniel M. Horowitz, a longtime top CSB official.
Tesoro's Puget Sound refinery, just north of Seattle, saw the deadliest accident of the past decade. On April 2, 2010, a damaged heat exchanger ruptured, spewing 500-degree gases that engulfed the unit in a toxic orange cloud that killed seven workers. The death toll was so high, the CSB concluded, in part because a supervisor failed to evacuate unneeded staff during the hazardous maintenance procedure. Though just one operator could do the job, the supervisor standing near the equipment asked five others to help.
The investigation also found "several indications of process safety culture deficiencies" at the refinery. "Refinery management had normalized the occurrences of hazardous conditions," including frequent leaks from the heat exchangers.
A similar scenario played out two years later at a Chevron refinery in Richmond, Calif. There, 19 people were "all too close to the hot zone" of an active refinery unit, Horowitz said, when it leaked flammable gas oil that vaporized into a cloud surrounding the workers. Eighteen people escaped before the cloud burst into flames. The other — a firefighter donning a protective suit — later trudged through the flames to safety. The toxic cloud eventually spread to surrounding neighborhoods in the suburban county near San Francisco.
The CSB concluded that Chevron failed to properly maintain its equipment and that its "decision making encourages continued operation of a unit despite hazardous leaks."
Despite those deaths and near-disasters, industry regulators say the industry has taken major strides toward safety amid increased scrutiny.
"There's much more attention now being paid to safety," Jordan Barab, the Occupational Safety and Health Administration's deputy assistant secretary of labor, said in an interview. "In terms of the whole infrastructure and the whole system, I'm much more confident than I certainly was 10 years ago, when we did surprisingly little at refineries and chemical plants."
After Texas City, many refineries did, for example, move temporary buildings away from danger zones and update hazardous equipment.
For it's part, BP says it adopted recommendations that emerged from probes of its disaster. It also appointed an independent process safety expert to track BP's progress and report to its board of directors.
"The accident spurred a wide range of actions intended to prevent such a tragedy from ever happening again," the American Petroleum Institute said in a statement.
But can regulators cite any hard data showing improvement? "Not really," Barab said, calling refinery accidents "high impact" events that don't happen often enough for officials to map out trends.
"Within ... OSHA, the number of people whom I respect and I feel have a reasonable depth and breadth of knowledge and experience in [process safety management] I could probably count on one hand."
— SAM MANNAN, director of the Mary Kay O'Connor Process Safety Center at Texas A&M University
U.S. Bureau of Labor Statistics data provides an incomplete picture. For years it tracked only employees, but refineries use so much contract labor that the agency began counting contractors' deaths for the first time in 2011. It still misses incidents, records show.
Between 2007 and 2011, OSHA inspectors carried out an unprecedented nationwide "emphasis" program, opening inspections at 58 different refineries. On average, it found 17 violations per inspection and levied $166,000 in fines at each. But the agency discontinued that program because of a lack of resources. Inspecting refineries took an average of 1,000 hours versus 25 hours for a normal review.
The agency has since shifted that extra attention to equally dangerous chemical plants — such as the DuPont plant in La Porte, where a gas leak killed four workers last November.
OSHA is now reviewing its process safety management standards, an effort President Obama initiated after a fertilizer plant in West, Texas, exploded in April 2013, killing 15 people.
Experts say OSHA struggles to enforce laws already on the books because it lacks enough inspectors.
"Within this reasonably large federal agency OSHA, the number of people whom I respect and I feel have a reasonable depth and breadth of knowledge and experience in [process safety management] I could probably count on one hand," said Sam Mannan, director of the Mary Kay O'Connor Process Safety Center at Texas A&M University.
The agency said roughly 600 of its employees have completed courses in process safety management in recent years, but it's not clear how many still work for OSHA.
"It's difficult," Barab said. "Sometimes we'll get someone trained up, and they'll get hired by industry for twice the salary."
BP Pulls Back
In the decade before the Texas City disaster, BP had already reported more fatalities nationwide than any other major U.S. refining company, records show. The company has since reduced its refinery footprint, selling off facilities in Carson, Calif., and Texas City.
Between 2005 and 2011, seven additional workers died at BP refineries, including four in Texas City ahead of the sale, according to OSHA reports and other records. But the company considers just one of those deaths related to "process safety," a company spokesman said in a statement. In that 2008 case, William Joseph Gracia, a 32-year veteran of the Texas City refinery, was killed when a metal lid blew off a water filtration system.
The other accidents, BP said, involved "personal safety." In those cases, workers were electrocuted, crushed by a backhoe, hit by a train, killed while diving and wedged between a beam and a man-lift. Another death was from natural causes.
"Although BP's personal safety performance over the past decade is on par with the U.S. refining sector as a whole," Scott Dean, the spokesman said, "we believe there is always more that can be done to encourage safe, reliable operations."
Only Tesoro and San Antonio-based Valero Energy Corp. reported as many deaths as BP's refineries since April 2005.
Valero owns 13 refineries in five states — more than any other company. It also produces more and employs more people than any other U.S. refiner.
Recent deaths included those from a chemical burn, boiler failure, separate incidences of hydrogen sulfide exposure (including one man who plummeted 100 feet after the gas knocked him out) and an exposure to nitrogen that killed two men. Another death, a heart attack, did not appear work-related, the company said.
On March 6, 2012, an explosion and fire at Valero's Memphis refinery severely burned Nicolas Cuevas, 36, his brother Daniel Reyes Cuevas and Guadalupe Torres. Nicholas Cuevas died four days later, and his brother was left largely incapacitated. Initially only able to communicate by blinking, Daniel Cuevas can now type with one hand and hear with one ear, said Tony Buzbee, an attorney representing the family in litigation.
Tennessee's OSHA inspectors cited Valero for failing to "adequately implement safe work practices to provide for the control of hazards" during operations. In a settlement, the company agreed to pay $63,000 but did not admit the violations occurred.
The company says its size makes direct comparisons of fatalities misleading and calls its low rate of reported injuries — which sits below industry average — evidence of its stellar safety record.
Valero has "maintained an excellent safety record, compiling awards from industry associations and regulatory agencies," Bill Day, a spokesman, said in an email.
Experts have criticized the use of reported injury rates as a safety benchmark, because they can be easily manipulated and are highly dependent on whether injured workers come forward, which they may be discouraged from doing.
When BP's Texas City refinery exploded, all those working in the troublesome unit survived. Blunt force trauma from the trailers' structure and contents caused all 15 deaths.
After the disaster, the CSB issued an urgent bulletin advising the petrochemicals industry to move temporary buildings away from process units. Later, the American Petroleum Institute, an industry group, adopted tougher recommendations for trailers — though not for tents.
BP addressed that concern at the Texas City site by putting those buildings well outside of potential blast zones and busing workers to and from process units. Many other companies — but not all of them — made similar adjustments, said Horowitz, the CSB leader.
Investigators "definitely see exposed structures damaged by explosions," he said. "I would not regard the problem as fully solved."
Texas City Hasn't Forgotten
BP no longer runs the Texas City refinery. Marathon Petroleum Co. bought the sprawling complex for $2.5 billion in 2012.
The company initially continued BP's policy on makeshift offices and eventually developed its own, said Tommy Garland, a United Steelworkers health and safety representative who has worked at the site since 2008.
But a decade after BP's trailers blew apart, Marathon set up three lunch tents on the same ground once littered with bodies and debris. The company found that erecting the tents farther away slowed work down and hampered productivity during a 2013 turnaround, Garland said. So in future turnarounds, tool trailers and tents popped up across from process units.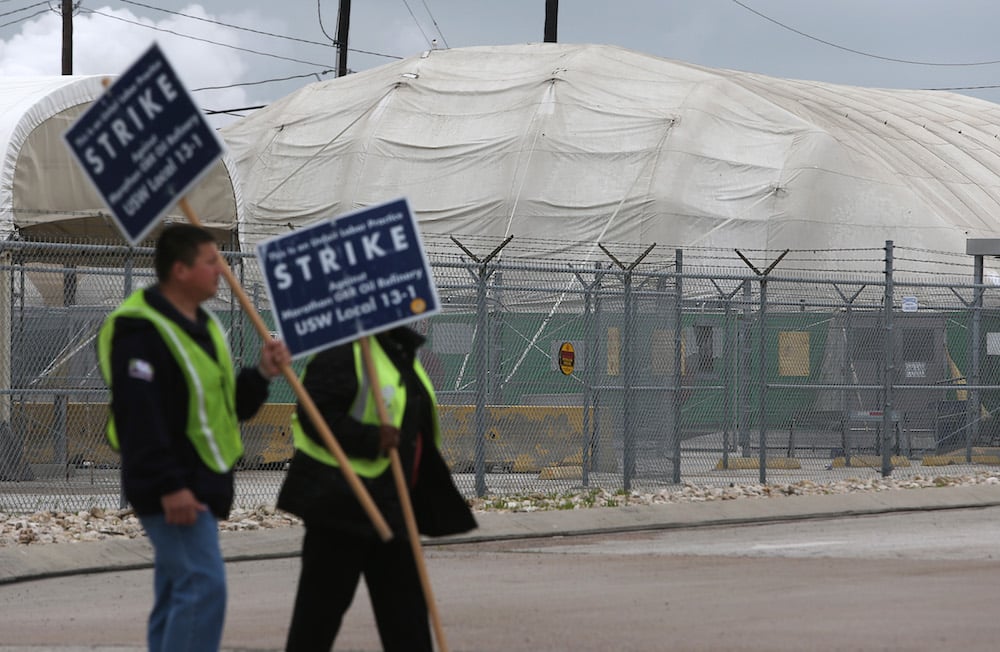 Mayra Beltran, © Houston Chronicle
The company made the switch without discussing it with a safety committee, Garland said. That committee, created in 2009, was supposed to concentrate on what's called the management of change — the principle that any change to refinery processes, policies and people could, unchecked, lead to accidents.
"If you read the policy, it's pretty restrictive," Garland said. "But they have things in print they're not practicing."
Computers, chairs, microwaves and even makeshift porches cropped up in trailers that weren't supposed to be continuously occupied, said Garland and other employees.
During a 2014 turnaround, the lunch tents — big canopies held up by pressurized air and cables — rose within hundreds of feet of process equipment on the very ground ripped by explosions in 2005. They even had smoking areas nearby. Garland said the industrial tents are considered "blast resistant." But, while they might not collapse, he said, debris and objects dislodged by an explosion could still be deadly.
Marathon declined interviews, saying it generally does not comment on operational and personnel issues. But the company considers the safety of workers, contractors and the community a top priority and has improved it since the BP acquisition, spokesman Jamal Kheiry said in an email. Its company-wide process safety prevention program is robust, he said, with every incident triggering deep-dive analysis, with union participation.
Marathon also empowers employees to shut down operations when they feel there is a safety risk, Kheiry added.
Public records and a review of related news stories show that Marathon has reported just four deaths on its refineries in other states — all in separate incidents — since 2005. The causes varied: hydrogen sulfide exposure, a fall, an exploded tank and a drowning.
Leining, who worked at the Texas City refinery for 36 years, is not surprised the refinery again has tents and trailers in potentially dangerous proximity to production facilities. Refiners, he said, are all about production — deaths are simply part of the cost of doing business.
He returned to work the next year after recovering from multiple fractures in his ankles and permanent hearing damage. He retired six months later, he said, because co-workers rebuffed his recommendation that maintenance workers use fire-retardant clothing for a maintenance procedure, calling it overkill.
His cousin, Richard Leining, was one of four workers killed at the Texas City refinery between 2006 and 2008 under BP.
Brian Ambrose, who was assigned to the unit that exploded in 2005 and now works at another nearby, acknowledges that overall safety at the Texas City plant has vastly improved. But he says the about-face on temporary structures sounds like an invitation to repeat the nightmare.
He and others members of the U.S. Steelworkers have been out on strike, in Texas City and at 14 other refineries in Texas and six other states, protesting what they consider a backslide in safety.
Ambrose is among the last active employees who directly encountered the horrors of 2005. The rest have retired or moved elsewhere. When Marathon erected the tents, he was still coping with the 10-year-old memory of his wife frantically calling him to come out of the shower in the afternoon, before his scheduled shift. Ambrose rushed to the plant that day only to find a mound of wreckage and mangled pipes where his unit used to be.
He and other employees say they have been verbally reprimanded for discussing the disaster — that Marathon management regards it as something that could only have happened within BP's broken safety culture and that to suggest otherwise is an insult.
At the end of last winter's turnaround, there was a communication lapse between the previous shift workers and Ambrose's shift. He couldn't determine whether a flare line had been completely cleaned of flammable hydrocarbons. That was important because maintenance personnel would soon be doing hot work — like welding — on the line. That kind of shift-to-shift communication breakdown was cited as a key contributor to the 2005 explosion.
Ambrose wanted his unit operators to make the connection. At his shift meeting, he took to the whiteboard and wrote "ISOM," shorthand for the unit that exploded in 2005.
"It can happen like that," he said with a snap of his fingers. "We don't make ice cream. Everything we work around will kill you."
Disclosure: BP, Valero and Texas A&M University are corporate sponsors of The Texas Tribune. Tony Buzbee was a major donor to The Texas Tribune in 2012. A complete list of Tribune donors and sponsors can be viewed here.